'Life of Pi' to open New York Film Festival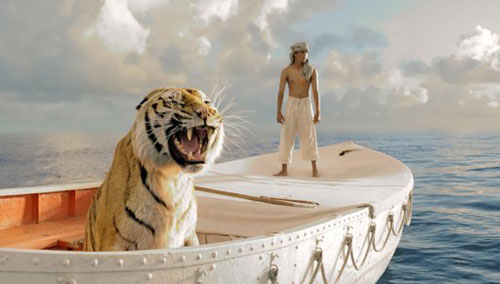 This film image released by 20th Century Fox shows Suraj Sharma in a scene from "Life of Pi". Ang Lee's "Life of Pi" will open the 50th annual New York Film Festival. The Film Society of Lincoln Center announced Monday that Lee's adaptation of the acclaimed novel by Yann Martel will premiere at the festival on Sept 28.[Photo/Agencies]
This film image released by 20th Century Fox shows director Ang Lee on the set of "Life of Pi". Lee's "Life of Pi" will open the 50th annual New York Film Festival. The Film Society of Lincoln Center announced Monday that Lee's adaptation of the acclaimed novel by Yann Martel will premiere at the festival on Sept 28.[Photo/Agencies]
Ang Lee's "Life of Pi" will open the 50th annual New York Film Festival.
The Film Society of Lincoln Center announced Monday that Lee's adaptation of the acclaimed novel by Yann Martel will premiere at the festival on Sept 28.
Related readings:


 James Cameron launches venture in China


 Dragons in 3-D


 Golden Rooster honors microfilms

Lee, whose "The Ice Storm" opened the festival in 1997, is only the fourth filmmaker to twice take the opening night slot. Robert Altman, Pedro Almodovar and Francois Truffaut also share in the distinction.
The 3-D film, a fantasy about a boy marooned on a lifeboat with a Bengal tiger, is due in theaters Nov 21.
The New York Film Festival runs Sept 28 to Oct 14. The Film Society earlier announced that Robert Zemeckis' "Flight" will close the festival. The full slate will be announced later.