Unicorn startup makes smart move into AI industry
Chinese chip startup Cambricon Technologies has raised $100 million from investors, making it the first "unicorn" in the country's AI semiconductor sector to be worth more than $1 billion.
Backed by Alibaba Group Holding Ltd, the Beijing-based company is affiliated to the Chinese Academy of Sciences, or CAS, and has focused on advanced chips to power deep learning computation.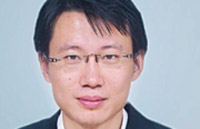 Chen Tianshi, co-founder and CEO of Cambricon Technologies. [Photo provided to China Daily]
This popular artificial intelligence algorithm is part of a broader push by the country's high-tech industries in the race for AI applications-the next frontier of innovation.
Last year, Cambricon unveiled its first chip, Cambricon-1A, which the company branded as the "first commercial deep learning application".
It can be used in the fields of robotics, drones, autonomous vehicles and consumer electronics.
"Most AI applications are powered by general purpose processors, which are not enough to push forward the limits of cutting-edge technologies," said Chen Tianshi, CEO and co-founder of the startup.
Cambricon-1A, he stressed, was far better than traditional chips in delivering image and speech recognition.
It also has higher integration density, making it ideal for mobile devices.
"There are differences between tailor-made AI chips and general ones. To some extent, it is like comparing kitchen knives to Swiss Army knives," said Chen Yunji, co-founder of Cambricon.
"Swiss Army knives are multifunctional, but they are not as good as kitchen knives when chopping meat," he added.
Cambricon was founded last year by the two Chens, both researchers at the Institute of Computing Technology, which is part of the CAS.
In 2016, the company also received 100 million yuan ($15 million) in licensing fees for its Cambricon-1A chip from smartphone manufacturers and wearable device makers, DigiTimes, a daily newspaper for the semiconductor and electronics sectors, reported.
During August, the startup announced it had raised $100 million in series A funding. This was led by SDIC Chuangye Investment Management, a subsidiary of China's State Development & Investment Corp.
Other prominent investors included e-commerce giant Alibaba, computer manufacturer Lenovo Group Ltd, robotics firm Zhongke Tuling Century Beijing Technology and the investment arm of the CAS.
Four months earlier, Cambricon had received $1.4 million from the Chinese Academy of Sciences.
The cash will be used to accelerate the company's AI chip technology program in high performance cloud computing platforms, as well as in smartphones and wearables, Chen Tianshi pointed out.
"We will focus on both in-device AI and cloud AI," he said, adding that the firm's clients already include iFlytek Co Ltd, a leading Chinese voice recognition business, and State-owned Sugon Information Industry Co Ltd.
Indeed, the future looks bright for Cambricon, even in a global marketplace which is highly competitive.
Demand for AI chips is growing, according to Roger Sheng, a senior analyst at research company Gartner Inc.
"There is rigid demand for AI chips in security, military, video AI algorithms and other sectors in China," he said. "There is no need for Cambricon to worry about orders, as long as its technologies are strong enough."
In July, China unveiled a national development plan to build a 1 trillion yuan AI core industry by 2030. This is supposed to stimulate as much as 10 trillion yuan in related businesses.