Riding into the future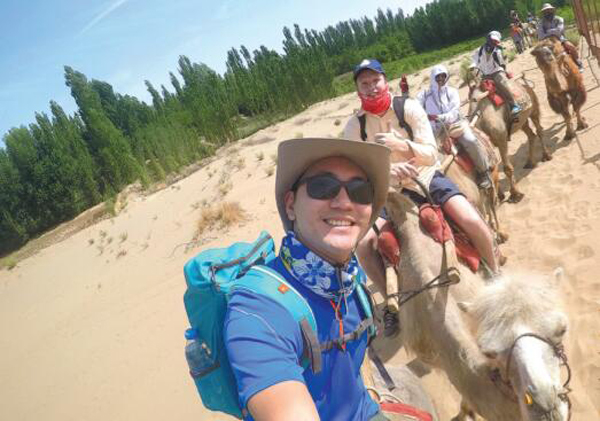 Alibaba "associates" ride camels in the Gobi Desert in Dunhuang, Northwest China's Gansu province in June, during a visit to Mogao Grottoes which was on the ancient Silk Road trading route. PROVIDED TO China Daily
Alibaba's one-year program aims to train the brightest and the best from across the world to become future leaders, and champions of globalization
They are young, gifted and digging deep into the cultural history of the old Silk Road.
In a visit to the Mogao Grottoes in Dunhuang, Gansu province, a group of Alibaba "associates" explored the oasis town, which was the epicenter of an ancient trading route.
Many would consider this a sightseeing tour. But not the 32-strong party from Alibaba Group Holdings Ltd's Global Leadership Academy or AGLA.
This was serious business for the culturally-diverse group as being aware of the past is crucial for them to understand the future, and the link to China's modern-day multinational project, the Belt and Road Initiative.
"Our program was created to train the future leaders for globalization," said Brian Wong, vice-president of the e-commerce behemoth.
During the five-day course, the associates, as the company calls them, need to attend leadership classes, work with a local company to give them practical advice, ride camels and camp in the desert overnight.
Literally a creme de la creme group, they have been selected from thousands of applicants to work for Alibaba for a certain period of time and are on the fast track to the top.
Understanding the Belt and Road vision is just part of the 12-month journey in a series of learning experiences about Chinese history, arts and trade as the company expands globally.
"Through this one-year program, we offer experiential and academic learning, as well as immersing them in businesses to help them become the leaders in the new economy," Wong said.
This elite group from 14 countries was selected from more than 3,000 applicants and started the program in October, 2016.
Most are from the world's leading universities, such as Harvard and Yale in the United States, and Oxford and Cambridge in the United Kingdom. All of them will work in various Alibaba departments and offshoots.
Gary Topp, 31, comes from the UK and feels working for the sprawling tech company is a unique opportunity, a "fascinating" choice.
"I believe I have the potential to play a bridging role in a company that is exceptionally successful in its home market but wants to seek growth outside China," said Topp, who worked for international ratings agency Moody's in London and New York before getting an MBA at the University of Chicago.
Indeed, this global approach is part of Jack Ma's big picture policy.
The Alibaba founder has made a pledge to attract two billion customers globally and empower tens of millions of small-and medium-sized enterprises through technology and market access.
To achieve Ma's vision, the company will need to hire international talent, as well as the brightest and the best from across the country.
In this intensive training environment, members of the group are expected to understand and relate to culture, and China's place in the world.
Other aspects include Alibaba's ecosystem pillars of big data, logistics and finance.
"For instance, the purpose of the Dunhuang trip was to bring the history of the Silk Road to life for the associates, and to tie that to the modern-day world, especially the Belt and Road Initiative," Wong said.
Each associate can select two out of three business operations for rotation, including Tmall Global, AliExpress and Ant Financial.
Future options are likely to be expanded to include logistics arm Cainiao or cloud-computing division AliCloud, Wong confirmed.
Damisa Prompoj, who comes from Thailand, found a natural fit working at Ali-Express.
Her former employer, Lazada Group, was the dominant e-commerce player in Southeast Asia before being bought by Alibaba.
"I find similarities between the companies," she said. "They are both young, dynamic and highly entrepreneurial, allowing us to try new things and voice new ideas."
Prompoj admitted her most memorable experience before the Dunhuang tour was a field trip organized by Rural Taobao, an online shopping website.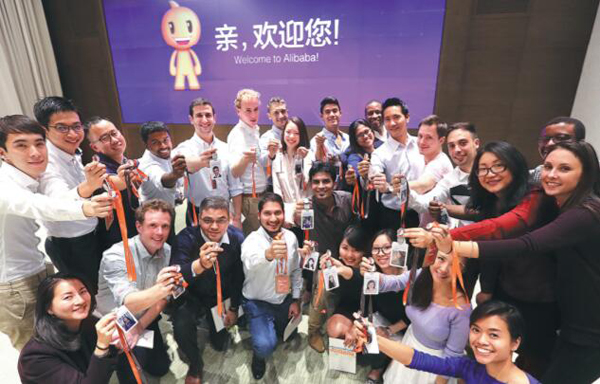 The 32-member elite AGLA group is comprised of candidates from 14 countries. Most of them graduated from the world's leading universities, including Harvard and Cambridge. HE GUANG / FOR CHINA DAILY
The party traveled to China's less affluent regions to help find solutions for rural business owners and to talk about e-commerce.
"Coming from a developing country, you normally see people confined within their villages and don't know how to take advantage of global trade," Prompoj said.
"Rural Taobao is a powerful first step," she added.
Diabate Dean Harry, an associate from France, agreed with that view.
Before joining Alibaba, he worked for leading retail brands on the Champs-Elysees in Paris and delved into exotic technologies, such as augmented reality.
He then moved to China and started his own digital marketing business in the heart of Shanghai.
But even Harry had to admit that his biggest challenge at Alibaba was "time management".
"It's not just learning content, it's about culture and ways of working," he said. "You also have to integrate well into the business units."
After the company's "graduation" ceremony, each associate will either take up a position at one of Alibaba's offices overseas or stay longer at the headquarters, based on personal preferences and company needs.
Many have expressed a willingness to remain at the group's headquarters in Hangzhou.
Liu Meng is keen to stay in China longer to gain more experience before finding the right post inside the company.
As one of the only two Chinese associates admitted to the program, the 32-year-old was recruited after graduating from Cambridge University's business school following a seven-year career as an engineer in the UK.
She relocated to Hangzhou with her husband and two children. "Everybody can contribute here," Liu said. "I just want to play a role in strategically important markets and add value."
Her perspective was shared by many of her colleagues. It was also an integral part of the program.
Vice-President Wong stressed it was important to create a whole generation of Alibaba ambassadors.
"They have this mission like all of us at Alibaba," Wong said.
"This is to empower SMEs (small-and medium-size companies) and entrepreneurs to 'make it easy to do business everywhere'.
"They can go to their own countries and make that happen," he added.
What they said about key field trips
Rural Taobao visits to remote regions in January
"Improving markets in rural areas of China is not easy, but the effects can be dramatic. This is one of the most substantial technological innovations at Alibaba, and the increase in wealth and wellbeing seen in the villages we visited demonstrates that fact."
- GARY TOPP, THE UK.
Nanjing trip for modern Chinese history in March
"A famous professor walked them through the history and significance of Nanjing (where Japanese troops massacred tens of thousands Chinese civilians in 1937). This is the bedrock over which modern Chinese history took many dramatic turns. We took a night train back to Hangzhou with a bunch of new friends and respect for human values."
- BINAMRA DASH, INDIA.
Visiting the Silk Road in Dunhuang in June
"Though we were not pushed to any extreme limits in the desert, the personal discomfort of the run made me think about the difficult challenges that Alibaba is tackling as a company. The only hope we have in achieving (our business goals) is if we have the mental resilience to keep moving forward in spite of discomfort and uncertainty."
- IYEMBI NKANZA, ZAMBIA.