Zhihu banks on a knowledge-seeking crowd willing to pay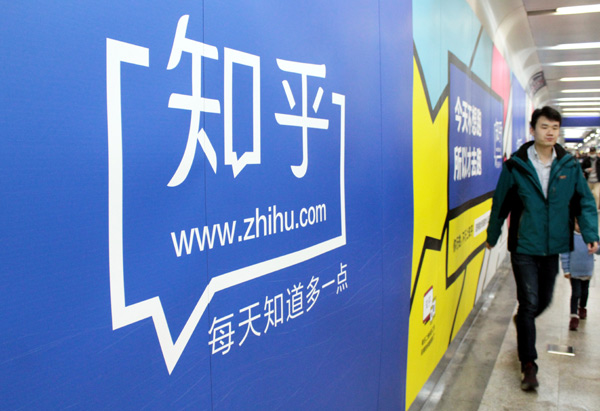 Billboards of Zhihu.com, a Beijing-based knowledge-sharing website, have sprouted up in Nanjing, Jiangsu province. WANG QIMING / FOR CHINA DAILY
There was a time when Chinese Q&A website Zhihu was an imitator and not an innovator.
But that was back in 2011 when it was considered little more than a Quora copycat.
Six years later, Zhihu has tens of millions of users, looking for advice and willing to pay for it.
Unlike its California-based rival, it is transforming its business model to cater for the sharing knowledge economy.
"It's a new phase in China's booming economy," said Zhou Yuan, founder and CEO of Zhihu. "We found people are willing to pay for knowledge and expertise.
"It will also be an opportunity for us to extend services for paid content in fields such as IT, finance and careers," Zhou added.
The Beijing-based website and app have proved to be smash hits with the online fraternity and investors.
Indeed, Zhihu claims to have 84 million registered clients and 22 million daily active users.
Back in January, the company announced it raised $100 million in its latest series of D-round financing, which gave it a "unicorn valuation" of more than $1 billion.
Supported by new investment, the company is gearing up to expand its paid-for-content business.
In May, the website introduced a new function on its app known as "market" to offer paid consulting, interactive online Q&As and lecture-type sessions for Zhihu Live and Zhihu Bookshop.
For about 20 yuan ($3), an individual customer can access audio and texts from Zhihu Live, covering a range of lectures and professional discussions, which can last for hours at a time.
More than half of the company's users access content through mobile devices such as smartphones and tablets.
According to online data company Analysys Qianfan, Zhihu's app had 13.78 million active monthly users in June, a jump of 7.16 percent compared to May.
"Free Q&A sessions provide a public space for users to talk and communicate with each other," Zhou said. "But knowledge payment is a commodity ... a way to satisfy demand for specific services.
"Our company's revenues are mainly from advertisement," he added. "It will still take some time to develop the emerging knowledge payment market. In fact, future revenues are expected from fees collected from a paid audience."
Last year, a survey released by Penguin Intelligence, an internet-focused think tank affiliated to Tencent Holdings Ltd, showed that up to 55 percent of China's online population paid for "knowledge content".
In another report, jointly released by the State Information Center and the Internet Society of China, the country's sharing knowledge transactions were 61 billion yuan in 2016, a 205 percent year-on-year increase.
Still, Huang Guofeng, an analyst from internet consultancy Analysys in Beijing, is convinced online companies need to up their game when it comes to "content consumption".
"The emerging knowledge payment trend just caters to a specific group of users, especially those looking to further their careers," he said. "It's a good thing that startups are popping up in China, but they must improve the products and offer better services."