Rivals take bite out of Apple as China sales fall 9.5 percent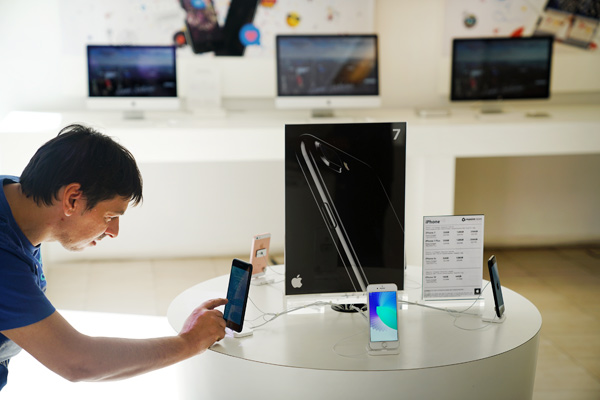 A customer looks at an Apple Inc iPhone at a Maxim Store in Buenos Aires, Argentina. BLOOMBERG
Apple Inc saw a nearly 10 percent decline in its China revenue in the latest quarter ending in July, as local consumers switched to newer domestic phone offerings and its 10th anniversary iPhone edition is yet to be released to invoke user enthusiasm.
The US tech giant's revenue from China fell 9.5 percent to $8 billion, amid mounting competition from brands such as in the world's largest smartphone arena.
The decline stands in sharp contrast to Apple's overall strong earnings report. Globally, its profit climbed 12 percent to $8.7 billion, and revenue increased 7 percent from last year to $45.4 billion, beating analysts' projections.
"Sales in the Chinese mainland were actually flat year-over-year and, were it not for currency fluctuations, would have been up 6 percent," Apple CEO Tim Cook told a conference call with analysts.
The company attributed the decline in China to weak sales in Hong Kong, which were affected by a reduction in tourism.
Neil Shah, research director at consultancy Counterpoint, said China remains the problem child for Apple partly because of iPhone fatigue in the country.
"Apple is losing share in the $300-$500 price band, as older iPhones fail to compete with affordable premium Chinese flagship models," he said.
The iPhone's share of China's smartphone shipments fell to 9 percent in January-June, from a peak of 14 percent in 2015, according to Counterpoint.
Apple is expected to unveil its 10th anniversary iPhone edition later this year, a crucial product aiming to outcompete local players, analysts said.
The financial report came as the Cupertino-based company is stepping up investments in China, in a move to boost revenue from services, after its smartphone market share slipped.
Apple announced in July that it will invest $1 billion to build its first China data center in Guizhou province, to meet local consumers' growing demand for better cloud services.
CEO Tim Cook said on Tuesday that services in China "grew extremely strongly" during the most recent quarter, continuing the robust momentum in the January-March period.
Jia Mo, an analyst at global consultancy Canalys, said Apple's service revenues were surging, partly because there was still a big user base for iPhones.
"Hardware is the corner stone for Apple's business. As its China R&D facilities start operations, Apple can offer better localized products," Jia said.