Blockchain technology to see growth in next 10 years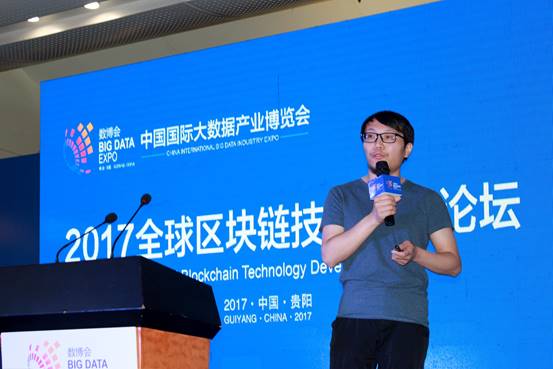 Zhang Jian, CEO of BoChen Technology, speaks at a blockchain forum in Guiyang, Guizhou province, May 27, 2017. [Photo provided to chinadaily.com.cn]
Blockchain-based application scenarios will become prosperous in the next five to 10 years as the technology continues to improve, Zhang Jian, CEO of BoChen Technology, said.
BoChen Technology focuses on the infrastructure creation of the blockchain industry, and will announce its own underlying architecture of blockchain on Saturday.
Blockchain is a computer technology that composites distributed data storage, point-to-point transmissions, a consensus mechanism and encryption algorithm.
As one blockchain "ramification", digital currencies like bitcoin and ETH are remarkable due to their constantly climbing prices.
According to Coinmarketcap, a website that provides information on digital currencies, the price of ETH surged to a record high of $407.1 on Monday, which was an increase of 5,001 percent from $7.98 on Jan 1 this year. On the same day, bitcoin also briefly hit $3,000, up 200 percent from the beginning of this year.
For some people, the digital currency has become a financial tool to maintain their asset value.
Blockchain can improve efficiency and security in financial areas. The technology can eliminate fake financial notes from circulating, Zhang said.
Currently, some financial institutions like Barclays, Citi, JP Morgan and Deutsche Bank are testing a blockchain technology that will be used in their financial services.
Based on BoChen's technology, the central bank of China's Nanjing branch also tested out the use of blockchain in its financial activities.
In February, China Merchants Bank announced that it had successfully incorporated the blockchain technology into its business regarding global cash management, cross-border direct settlement and unified account management.
The move shortens information transmission time between the head office and overseas branches while avoiding falsified information.
However, the current blockchain is not a completely mature technology. It still faces problems that need to be solved, Zhang added.
"The technology's massive uses involve three key nodes,which are breaking out the technical bottleneck, popularizing digital currency and building supervision system."