Chaoyue's cozy dates with Trump and Ma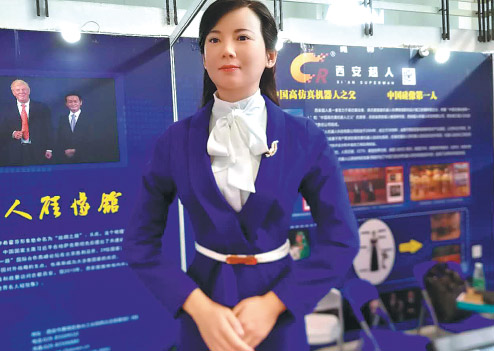 The Robot Chaoyue at the 2017 Beijing International Robot Exhibition, June 10, 2017. [Photo provided to China Daily]
Silicone sculptures and robots mingle at the 2017 Beijing International expo
When it comes to robots, Chaoyue is attractive. So attractive, in fact, she invited Donald Trump and Jack Ma to join her.
Not the real versions, of course, but silicone sculptures, of the United States president and the founder and chairman of Alibaba Group Holding Ltd.
The three of them did not fluff their lines, they just stood in a line at the 2017 Beijing International Robot Exhibition last week.
Looking eerily real, Trump and Ma became the stars of the show along with Chaoyue, who cost up to 300,000 yuan ($44,131) to develop by Xi'an Superman Group Corp, a privately owned company based in Xi'an, Shaanxi province.
"Oh my God, their skin is so real that I can see the pores and the blood vessels," said a visitor on Saturday at the exhibition.
It should be, as the sculptures of Trump and Ma cost 80,000 yuan each.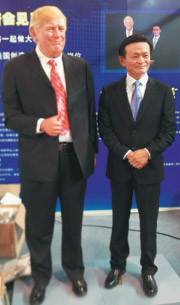 Models of US President Donald Trump and Founder and Chairman of Alibaba Group Jack Ma at the 2017 Beijing International Robot Exhibition, June 10, 2017. [Photo provided to China Daily]
Launched in 1997, Xi'an Superman Group is the largest simulation silicone sculpture company in China.
More than 4,000 models have rolled off their assembly line with most on show at around 400 museums and memorial halls in China and overseas.
"About one-third of the models of Chinese historical and cultural figures at the National Museum were produced by our company," said Zou Renti, founder of the group.
With 80 makeup artists, craftsmen and software engineers, Xi'an Superman's revenue is between 20 million and 30 million yuan annually.
Detailed financial figures have yet to be released, but the silicone figures of Trump and Ma will be upgraded into robotic form in the near future.
"Our company is the first in China to combine silicone sculpture art with modern technology to develop human replica robots," said Zou.
By 2006, t1he group's simulated robot "Zou Renti", was selected as one of the "inventions of the year" by Time, the prestigious US weekly magazine, while on show at the Chicago International Automobile and Robots Exhibition.
So far, it has made more than 40 robots for museums.
"They can make realistic facial expressions," said Zou. "But our robots are not as good in motion smoothness as Japanese models."
The computer control programs, or electrical brains, inside them allow them to perform simply tasks, recognize speech patterns and talk to people, according to Xi'an Superman.
"With their skin made of silica gel, our robots look like real people," said Zou. "Human hair is used, or inserted, for eyebrows and eyelashes."
After being in business for two decades, the group now owns dozens of patented technologies in the field of simulated robots.
In the next 10 to 20 years, Xi'an Superman plans to manufacture domestic service robots, which ordinary consumers will be able to buy with individual design features.
"We can make robots that look like children or grandchildren of the people buying them," said Zou. "They will never leave and act as a constant reminder. But first we have to look at ways to reduce the costs.
"It takes us three to five months to make a human replica robot, which costs between 200,000 yuan to 300,000 yuan," Zou added.
According to statistics, there are more than 50 countries developing service robots.
In Japan and the United States, many basic units are already in service. The Japanese government has made robotics one of its key industries for economic growth.
In June 2015, the country launched a robot, which was called Pepper and cost only just 10,000 yuan.
It could recognize facial expressions, talk with humans and act as an alarm call for elderly people, who live alone.