Pig dung leads to profit in Longyou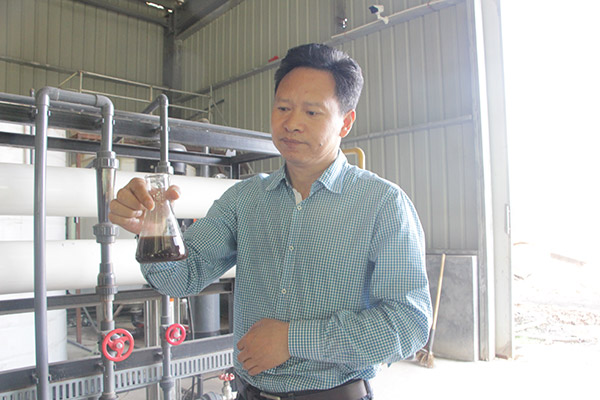 Zhu Youbiao, founder of Kaiqi Energy Technology Co Ltd, shows the brown liquid fertilizer made from pigs' excretions. [Photo/China Daily]
Pig dung used to be a serious issue in Longyou county, Zhejiang province. The waste produced by 2.8 million hogs raised in the county had fouled rivers here.
But Zhu Youbiao, a local farmer, has turned the county's mountains of dung into serious dough, with the establishment of Kaiqi Energy Technology Co Ltd in 2009.
"I had 25,000 pigs and dozens of tons of dung and urine needed to be dealt with every day," said Zhu.
After consulting experts from China's Ministry of Agriculture and waste treatment companies in Europe, his research team designed a system that would decontaminate pigs' excretions and convert this potential source of pollution into profit.
Kaiqi finally built the facility with the help of $680,000 of funding from the World Bank.
In Kaiqi's system, the slurry is first fermented inside vast tanks for 40 days, before being sterilized and then filtered to produce biogas, liquid and solid biofertilizer, and clean water. The gas can be used to generate electricity, while the fertilizer is suitable for organic farming.
At first, Zhu only used the process to treat his own farm waste. But when Zhejiang provincial government launched a large anti-water pollution campaign in 2013, Kaiqi joined in and caught the national attention.
The central government invested 20 million yuan ($2.9 million) to help Kaiqi promote its facility in 2014, and the company now collects waste from every pig farm in Longyou. Each morning, Kaiqi's fleet of 15 trucks rumbles across the 1,000-square-kilometer county with 400,000 residents and brings back 450 tons of dung to process.
The company produces an average of 15,000 tons of solid biofertilizer and 16 million kilowatt-hours of electricity each year.
And as China prioritizes modernizing its pig farms, cutting down on pollution and reining in use of agrochemicals, there is huge potential for Kaiqi.
Biofertilizers are already a 20 billion yuan market in China and their usage could double by 2020, according to Chemlinked, a market research company that specializes in China's agrochemicals market.
Years ago, most farms simply dumped their mounds of droppings into the nearest river. Thirteen of the county's waterways were officially classified as "black and smelly" or "garbage" rivers, not fit even for industrial use, said Wu Guoxiong, a pig farm owner.
Now, Longyou's rivers are running clear. By 2016, there were no "black and smelly" or "garbage" rivers left in the county, according to the county's water resources bureau.
Kaiqi has also received delegations from Fujian, Jiangxi, Henan and Jiangsu provinces investigating the possibility of replicating its model in their regions.