Tencent embarks on Indian adventure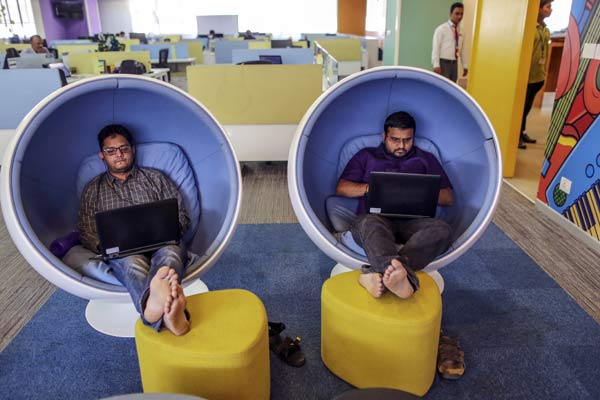 Employees sit in ball chairs as they work on laptop computers at the Flipkart Online Services Pvt headquarters in Bengaluru, India. [Photo/Agencies]
Tencent Holdings Ltd said it plans to bring to India its extensive experience linking social networking and e-commerce through a new strategic investment in Flipkart, the country's biggest e-commerce firm.
As a strategic investor, Tencent said it is poised to help Flipkart deliver "compelling" experiences to Indian users in e-commerce and payments, as the Chinese internet giant moves beyond the traditional realm of gaming that has found a strong presence in the region.
The total value of the Flipkart investment, announced on Monday, was $1.4 billion. The biggest investment was made by Tencent, but other backers were such tech giants as eBay Inc and Microsoft Corp.
It marked the biggest round of funding received by the 10-year-old firm, taking its total value to $11.6 billion.
"This strategic partnership enables Tencent to participate in the exciting opportunities in e-commerce and payments in India ... and contribute to the development of the internet ecosystem there," said Tencent President Martin Lau.
Tencent did not disclose any financial details, but according to the Economic Times in India, it led the funding with an investment of $700 million, followed by eBay's $500 million and Microsoft's $200 million to round off the deal.
Under the agreement, eBay is also selling its Indian operations to Flipkart and will receive Flipkart stock worth $200 million in lieu of the local businesses.
Flipkart owns well-known Indian brands such as Myntra, Jabong, PhonePe and Ekart-all leaders of online fashion and lifestyle, digital payments and supply chain and logistics segments-according to the company website. It serves more than 100 million users in the country.
Tencent runs China's ubiquitous chat app WeChat with over 846 million users and its affiliate digital wallet is quickly gaining traction. Last year it acquired 21 percent stake in JD.com, a leading Chinese retail site, to become its top shareholder.
The deal came as the prolific investor upped the ante in the battle for market share in the e-commerce and payment sectors and moved to fend off rival Alibaba Group Holding Ltd in overseas markets, said Lu Zhenwang, chief executive officer of Shanghai-based Wanqing Consultancy.
"India's e-commerce landscape is still in its infancy. Tencent could tap into India's vast population and gain an edge over Alibaba in combining commerce with social networks, an element that is largely missing in the Alibaba ecosystem," he said.
Flipkart now has more resources to draw on in an expected battle with Alibaba, which has entered India via investments in homegrown digital payments platform and e-commerce service Paytm, said Rahul Chadha, a researcher with consultancy eMarketer.
Alibaba made the largest overseas investment in e-commerce last year with $1 billion deal for control of online retailer Lazada, gaining it access to six nations in Southeast Asia including Indonesia and Malaysia.