China's Huawei names 20 French winners of 7th Digital Talents program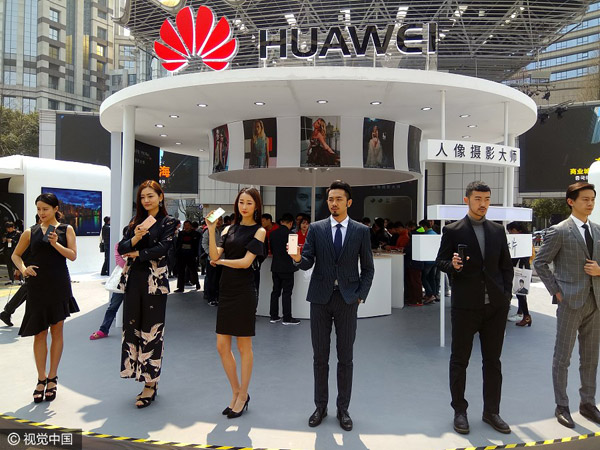 Models present Huawei new phones at the Century Square in Shanghai,March 26, 2017. [Photo/VCG]
PARIS - Chinese telecoms giant Huawei on Thursday unveiled the 20 winners of the 7th edition of the company's Digital Talents program, offering French students two weeks of technological immersion in China.
For the first time, 20 students have been selected to travel to Huawei's Shenzhen campus from July 1 to 16.
"This year, the candidates proposed their original and innovative solutions to social challenges in relation with digital transformation," organizers said in a statement.
Projects involved sectors such as the environment, education, employment, health and energy resources.
Huawei runs the program "to identify the digital talents of tomorrow".
Chaired by former housing minister Benoist Apparu, members of the jury, which included a think tank founder, Huawei communications director, newspaper editor-in-chief, the director of a science institute, and the general director of Paris' economic development agency, met on April 4 in Paris to choose the best 20 projects.
"The jury was enthusiastic about the projects, whose quality keeps improving every year. The winners have showed their willingness to develop their profile internationally, but also to respond to many technical and societal challenges caused by digital transformation," said Apparu.
"I am convinced that this experience in China will allow them to enrich their knowledge of a digital ecosystem which is globalized," he added.
Isabelle Leung, one of the jury members and director of public affairs and communication at Huawei France, said that to meet the constantly evolving challenges of the technological world, "today's students need to develop their technological culture and face the latest innovations."
"The laureates' immersion on our campus in Shenzhen puts innovation at the heart of the program, via degree courses inspired by meetings organized on the spot with representatives of the French-Tech Shenzhen in particular," she added.
Francois Pinto, one of the 20 laureates and a student at engineering school IMT Lille Douai, described his participation in Digital Talents as "a real opportunity".
"I knew Huawei's reputation, but I had never had the opportunity to discover the group's products and expertise. The feedback from former school participants really motivated me to apply this year. I'm very happy to be among the winners of the 2017 edition," he said.
The 20 selected projects deal with a range of issues, including connected glasses, recycling cigarette butts, cyber attacks, video games, and providing help for refugees.