Online payment tool looks beyond China's borders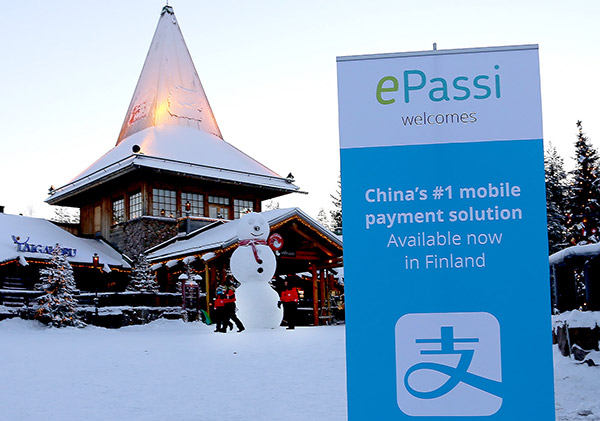 Alipay lands in the Santa Claus village in Arctic Circle, Finland, in December, 2016, signaling the first-ever mobile payment solution available in Finland. [Photo provided to China Daily]
Alipay was created in 2004 as a tool to allow transactions on Alibaba's Taobao e-commerce site. But it has enjoyed exponential growth since, by introducing a string of financial products and services.
Now the popular payment tool is rolling out its businesses abroad to provide the world with its own brand of mobile solutions.
Overseas, Alipay is accepted at more than 100,000 merchants, including high-end shopping malls such as Harrods and Printemps, both magnets for Chinese consumers. In the latest national holidays, Alipay saw the number of its overseas transactions quadruple, among which Europe secured the fastest growth with 18 times year-on-year.
To quench the thirst of wealthier Chinese buyers, Alipay even introduced its payment services in October at 10 major overseas international airports in Germany, Japan and New Zealand. Departure tax refunds services processed by Alipay were also made available in 23 countries.
From buying luxury bags to paying Uber bills, the country's top wireless payment provider has a vision to serve 2 billion global customers in the next decade, with more than 60 percent of users from outside the Chinese mainland. Currently overseas users have reached 200 million.
Apart from setting up six branch offices in the United States, Singapore, South Korea, the United Kingdom, Luxembourg and Australia, nominating ex-Goldman Sachs banker Douglas Feagin to oversee global businesses fits the pattern for a global push.
But its ambition does not stop here. Through signing pacts with financial institutions and distributing tech platforms to retailers, the company is laying a solid ground for what could eventually be a major rivalry to banking monopolies and the likes of Visa Inc.
Such agreements include the partnership with leading European banks BNP Paribas, Barclays, UniCredit, and Six Payment Services, a major payment service firm, to enable more European merchants to accept Alipay as a payment method.
In the US that many Chinese visit, Ant Financial teamed up with US payment technology providers First Data Corp and Verifone, to expand its presence through the duo's extensive networks.
Its latest endeavor to buy US-based money transfer network MoneyGram was put on pause, when a counterbid trumped Ant's offer. But the momentum to link up with foreign partners will continue.
In a keynote speech at Money 2020 in Las Vegas, Feagin said: "We aim to have at least 1 million merchants outside the Chinese mainland accepting Alipay within three years. Working with our network of global partners like First Data and Verifone will help us achieve the goal.
The third cornerstone strategy held by Ant Financial is the advancement of inclusive finance in the global arena. In the words of its chief executive Eric Jing, the company wants to spread to the world its experience in serving the under-banked population using the mobile channel.
In December, a South Korean lender K-Bank helped co-launch and obtained the first operating license for online-only banks, another score for Ant Financial in overseas expansion.
The company believed the K-Bank case represents a "unique globalization model" that differs from overseas mergers and acquisition-a common path taken by Chinese firms as they march beyond borders.
"We export our leading technologies and expand global influence. We expect it to become a new 'Chinese name card' and consolidate our position in the ICT industry," said a company statement.
K-Bank marks yet another celebration for Ant Financial after its parent Alibaba Group upped the stakes in Paytm, an Alipay-like payment system in India that the company helped foster, and tied up with Ascend Money in Thailand. Both companies would mimic Alipay's services such as offline payment and micro loans in their countries so that people could complete a variety of purchases with a scan of their phones.
Payment users have grown rapidly from 20 million to more than 140 million in less than two years, said Alipay's vice-head Ni Xingjun. Overseas expansion in the next few years will target economies along the Belt and Road Initiative, he stated.
"We see the most pressing needs in Southeast Asian nations, because of a bigger population base and lack of credit card culture, which spells more opportunities," he said.