Ofo tests deposit waiver in Shanghai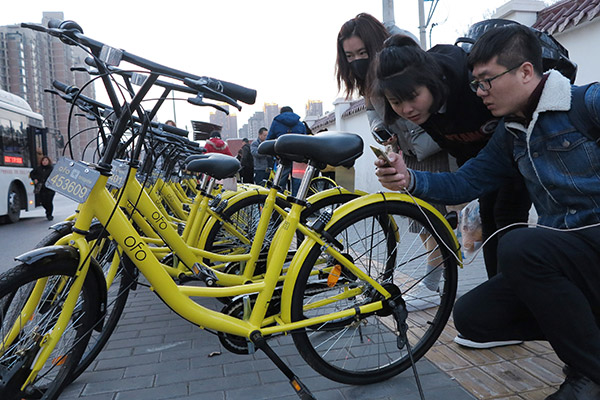 Riders scan ofo bikes in Xi'an, Shaanxi province. The bike-hire startup is experimenting with a deposit waiver system for users in Shanghai and may extend the service to other cities in the country. [Photo/China Daily]
Chinese bike-hire startup ofo Inc is testing deposit waivers for qualified riders in Shanghai, a move observers said would further intensify the already heated competition in the sector.
By teaming up with Sesame Credit, a social credit rating unit under Ant Financial Services Group, ofo allows customers with a Sesame Credit of 650 points or higher in Shanghai to enjoy the bike-hire service without paying the 99 yuan ($14.4) deposit, ofo co-founder Zhang Siding said on Thursday.
Users scan the QR code on the bikes using Alipay, the e-wallet run by Ant Financial, and choose to "skip the deposit" should they pass the credibility threshold, said Hu Tao, general manager of Sesame Credit.
Zhang said the service may be extended to other cities, and the credit benchmark may be adjusted.
"Deposits are inevitable during the nascent phase of the bike-hire sector. But we hope, as the sector matures, to unlock a new model to leverage users' credibility," Zhang said.
Zhang said the deposit gap would hardly affect its businesses.
Ofo has deployed 1.5 million bikes and has more than 25 million registered users. It has provided an accumulated 400 million rides since its debut in 2015, according to company figures.
With 450 million users, Ant Financial evaluates customers' purchasing and spending habits in order to derive a figure that shows how creditworthy someone is.
Ofo is not the first company to announce a deposit waiver service. Last month, bike-sharing company Youon Bike allowed users who have more than 600 Sesame Credit points to rent bikes deposit-free.
Zhang Xu, an analyst at Beijing-based internet consultancy Analysys, said the deposit waiver will intensify the competition in the bike-sharing sector to some extent.
"Users would be more inclined to take a ride without paying the deposit. For bike-hire startups, the key still lies in offering a good service."
Regulators are taking a closer look at the red-hot industry to tackle issues such as illegal parking.
According to China News Service, the Shanghai Municipal Transportation Commission has asked leading bike-sharing companies including ofo and rival Mobike to stop adding new bikes to the streets given the saturated market capacity.
Zhang from ofo denied the report, but said his company has been working closely with related government agencies and industry associations in drafting industry guidelines, such as the inclusion of GPS functions on all rental bikes.