Medical sector ready for AI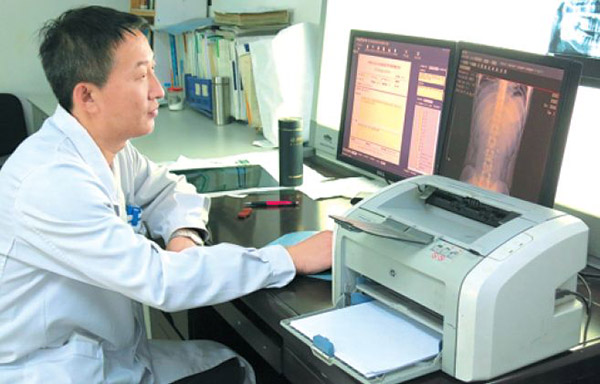 A doctor uses Wingspan's AI-enabled online diagnosis system to carry out remote diagnosis. [Photo provided to China Daily]
The application of artificial intelligence in medical diagnosis and treatment has gone far beyond wildest expectations. Medical imaging may now take the lead in commercialization of such applications.
Intelligent medical imaging diagnosis, voice-controlled electronic medical records, and intelligent diagnosis of cancer have become a hot research direction. These AI-based technologies could assist doctors to improve accuracy levels of diagnosis.
Xi'an-based Wingspan Technology, founded in 2009, has been engaged in the medical imaging field and related R&D and applications of AI technology. Its businesses cover third-party medical imaging diagnosis and treatment.
Ni Meng, founder and CEO of Wingspan, said the domestic medical imaging industry maintains a growth rate of 30 percent annually, but the demand for high-quality medical treatment could not be satisfied at present.
"The AI technologies could be used in this field to improve the diagnosis accuracy and let the doctors become stronger."
Industry insiders said 90 percent of medical data comes from medical imaging sector, whose growth rate exceeds that of doctors from medical imaging department. Moreover, the medical imaging data needs manual analysis, and diagnosis may not be accurate as doctors just rely on their experience to make a judgment.
Relying on the powerful image recognition and deep learning technology, AI will solve the problems that exist in the medical imaging sector and greatly improve the efficiency of data analysis, reduce the pressure of doctors, as well as raise the accuracy of diagnosis and treatment.
Wingspan has launched an online cloud platform, where the doctors will be provided with learning, communication, training and assessment. The contents include imaging cases, instructional videos, related learning materials and online imaging diagnosis.
"We hope to enhance the vocational skills of the doctors through online sharing, communication and training," said Bian Haifeng, CTO of Wingspan.
Bian said doctors could refer to the AI-based diagnosis results that are based on large amount of data, and then verify or improve their diagnosis accordingly. Meanwhile, patients could make a consultation directly at the platform without visiting a clinic.
In order to boost the online medical treatment segment, China now supports third-party institutions to build platforms for medical imaging, health records, electronic medical records and other medical information-sharing services.
Bian said: "With the opening-up of the third-party or independent medical imaging diagnosis centers, we hope to do more in this sector by applying deep learning and AI technologies to assist doctors.
"There is no doubt that AI will take the place of some tedious work of human beings, but it will create some new jobs gradually. It is natural that AI is being applied to the medical imaging field."
Zhang Yidan, an analyst at internet consultancy Analysys, said the application of AI technology in online patient diagnosis could ease the shortage of doctors and improve strained relations between doctors and patients.