It's full steam ahead for the development of tourism subs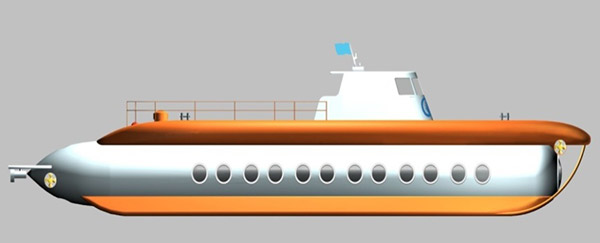 Artist's rendition of the manned submersible for tourism developed by Tianjin Ostar Underwater Vehicles Co. [Photo provided to China Daily]
A maritime technology company plans to develop China's first-ever manned submersibles for civilian use with Russian scientists, and the product is expected to be ready for the market by the end of this year, a senior executive said.
The developer, Tianjin Ostar Underwater Vehicles Co Ltd, said the submersibles would be able to carry between 20 and 40 passengers at depths of up to 24 meters. Two of China's well-known tourism operators from Zhangjiajie in Hunan province and Beibu Gulf in southern China have shown interest, said Zou Yongchunhe, deputy general manager of the company.
The craft will be capable of performing flexible maneuveres to minimize the impact on the environment, including underwater plant life, fish and coral.
Zou said his company and several Russian research institutes had established a new company-Ostar (Tianjin) Sino-Russia Joint Marine Technology Research Institute-to advance the project, which would be helpful to introduce advanced foreign technologies in manned submersibles to China.
"The development of the Belt and Road Initiative also represents an enormous opportunity for a company like us, seeking more interaction with Russia," Zou said.
"Our products can also be used in popular tourist spots in countries like Vietnam, Thailand, Greece and Turkey," he added.
China has a track record in marine technological cooperation with Russia. The country supplied a number of components for China's Jiaolong manned submersible, which can dive to a depth of 7,000 meters.
"With support from the government, we will be able to double the number of our Russian researchers to more than 30 people after April," said Zou.
Currently scientists from the two countries are working in a number of high-tech marine fields, including underwater robots and sonar detectors.
"Our focus now is on the whole industrial business chain and many high-tech companies in our field are keen to participate in this project," said Ma Jie, who is in charge of high-tech companies in the management committee of the Tianjin Economic Technological Development Area, where the manned submersible developer is based.
"It is promising to introduce such technology to civil use," said Luo Jianbin, dean of the Tianjin Research Institute for Advanced Equipment at Tsinghua University, which has incubated eight scientific breakthroughs with Tianjin Ostar.
"Over the years China has been buying secondhand technologies from other countries. For example, in microelectronics sector, between 70 to 80 percent of the technology has been imported," he added.