ZTE reaches settlement with US authorities over export violation charges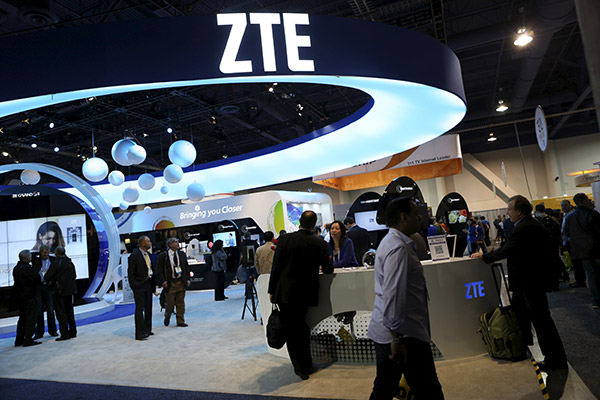 The ZTE display is shown at the annual Consumer Electronics Show (CES) in Las Vegas, the US, Jan 8, 2014. [Photo/Agencies]
WASHINGTON-Chinese telecom equipment maker ZTE Corp said on Tuesday that it has reached settlements with US authorities over US export controls and sanctions charges.
The Chinese company has agreed to pay a criminal and civil penalty of about $892 million and an additional penalty of $300 million which will be suspended during a seven-year probationary period to deter future violations, the ZTE said in a statement posted on its website.
In order to improve its export control compliance, the ZTE has appointed new CEO and made major changes to the senior management team, according to the statement.
It also established a new compliance committee and strengthened export control compliance training and processes.
The settlement was reached with the Commerce Department, the Justice Department and the Treasury Department, said the US Commerce Department in a statement on Tuesday.
The US authorities claimed that the ZTE and its affiliated entities have illegally shipped telecommunications equipment to certain countries in violation of the US regulations. The Commerce Department added ZTE to the Entity List under the Export Administration Regulations in March 2016. This move made it difficult for ZTE to acquire US products such as chips and software.
Following the settlements, The Bureau of Industry and Security under the US Commerce Department will recommend that the ZTE be removed from the Entity List, said the ZTE in its Tuesday statement.
The ZTE has created strong partnerships with many US suppliers that supported nearly 130,000 high-tech jobs, said Zhao Xianming, chairman and CEO of ZTE, in the statement.
Chinese Foreign Minister Wang Yi said on Wednesday that China always opposes unilateral sanctions imposed by foreign governments on Chinese enterprises. Wang was responding to a question concerning the new tide of trade protectionism in the United States at a press conference on the sidelines of the annual legislative session in Beijing.
He referred to the latest US sanctions on ZTE for alleged violations of US export controls.
China has always asked its businesses to conduct their overseas operations according to law, the minister said, adding that the Chinese authorities will continue to monitor the situation to see whether its enterprises have been treated fairly, Wang said.