Inke hires 1000 supervisors to clean up live-streaming content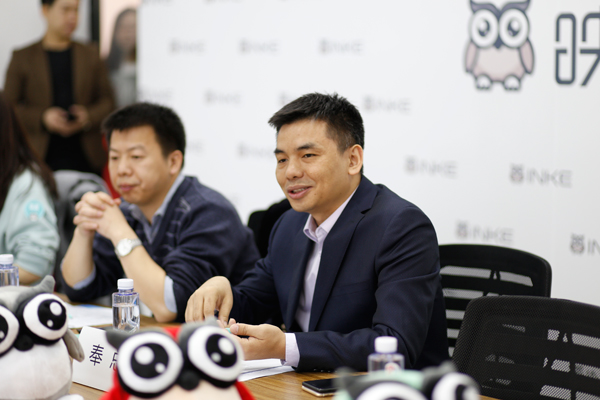 Feng Yousheng, CEO of Inke, speaks at a press conference on Feb 16, 2017, during an open day for reporters to visit the company's subsidiary headquarters based in Changsha, Hunan province. [Photo/provided to chinadaily.com.cn]
Live-streaming application Inke has hired more than 1000 people to monitor content 24-hours a day to create a "green" experience for viewers.
For the first-time the app, which has attracted 15 million daily active users, invited press on Thursday to tour its content monitoring department and call center based in Changsha, Hunan province.
"Different voices appeared when the live-streaming industry boomed in the country last year, and after plenty of reports criticized the inappropriate content shown on many apps on the market, authorities have issued a series of regulations to supervise the industry," Inke CEO Feng Yousheng said. "We are working on promoting 'green' live-streaming experiences on our app."
The company estimates it spends 80 million yuan a year on cracking down on illegal content using big data and artificial intelligence technologies, such as image and voice recognition, as well as hiring 430 full-time and 600 part-time employees to conduct round-the-clock manual supervision.
They are on the lookout for inappropriate behavior from online anchors, such as smoking, gambling or driving while operating the live stream on the platform.
Industry experts remain concerned that the market will face stricter regulations this year.
"The live-streaming economy is a new pattern derived from the 'new economy' during the development of mobile technology," Wu Yiming, a sociology professor at Nanjing Normal University, said. "Overly pursuing profits via allowing anchors to broadcast inappropriate content might turn this sector into a flash bubble."
Shen Yang, professor at the School of Journalism and Communications of Tsinghua University said: "the crucial part for the regulations to take effect in the sector is how to properly implement them."
Multitudinous video-sharing and live-streaming apps have in recent years become a driving force in the social mobile internet community pursued by enterprises specializing in pan-entertainment.
According to the latest statistics released by China Internet Network Information Center, there were 344 million live-streaming users in China - about half the country's entire online community - by the end of last year.
This has pushed the development of live-streaming websites and applications. Figures released by internet research agency iResearch show that, on average, a live-streaming "platform" was established every three days last year. There is plenty of opportunity to monetize the service, too, with more than 30 such websites and apps securing financial backing exceeding 5 billion yuan ($7.2 billion).
Huge business opportunities have also created regulatory challenges.
According to Xinhua News Agency, last October, several "anchormen" on kuaishou.com reportedly broadcast themselves distributing money to the poor in Liangshan Yi autonomous prefecture in Southwest China's Sichuan province. It later transpired that once the cameras stopped rolling, they took the money back.
Last November, a man was detained in Shanghai for demonstrating drug use for his online followers. Some anchors have even been caught in "compromising positions" during webcasts, according to a report on youth.cn.
The authorities have begun to draft and implement measures to regulate this emerging sector.
More than 2,500 websites across the country have been punished or shut down since a campaign against online pornography was launched last April. Some 3.27 million pieces of "harmful content" had been removed as of November.
According to a release by the State Administration of Press, Publication, Radio, Film and Television, the regulation makes it compulsory for online presenters to register their real names and obliges service providers to monitor content and blacklist users who break the rules, prohibiting them from registering again.
It also bans the use of live streams to undermine national security, destabilize society, disturb social order, infringe upon others' rights and interests, or disseminate inappropriate content, including pornography.