Toshiba discusses options as reports swirl about chip sale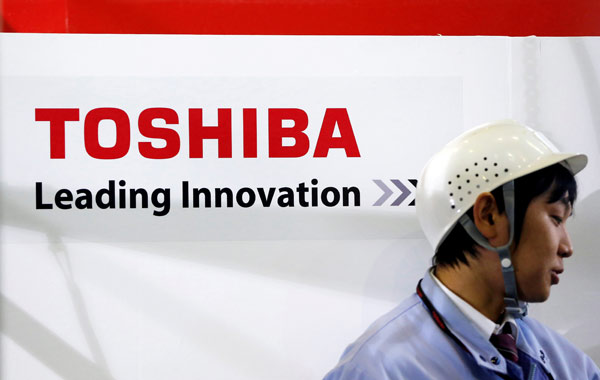 An employee stands next to a logo of Toshiba Corp in Yokohama, south of Tokyo, November 21, 2012. [Photo / Agencies]
The Toshiba Corp said it is discussing an optimum solution for its semiconductor business, after media reports said the tech giant would sell a minority stake in its computer-chip business to some bidders.
SK Hynix Inc, Foxconn Technology Group and Western Digital Corp are among bidders participating in Toshiba Corp's sale of a minority stake in its computer-chip business, according to the Wall Street Journal, citing people familiar with the matter. Toshiba declined to comment on this issue.
James Yan, research director at Counterpoint Technology Market Research, said: "The bidders such as SK Hynix and Western Digital hope to expand market share and enhance competitiveness in the semiconductor and chip industry, especially the storage sector."
Yan added that Foxcoon expects to diversify its businesses and move into chip design and manufacturing to increase its profitability.
In January, Toshiba announced it would be splitting off its memory business into a single business entity by March 31 to draw the attention of possible investors. The move will lead to further growth of the business and maximize the corporate value, said a statement issued by Toshiba.
Toshiba is considering an injection of third-party capital, and will make an announcement when specific capital measures are decided, according to the statement.
The Nikkei financial daily reported that Toshiba will sell a roughly 20 percent interest in the unit for about 200 billion yen to 300 billion yen ($1.78 billion-$2.67 billion) while retaining a majority stake.
In 2015, Toshiba sold its white goods business to Chinese leading home appliances manufacturer Midea Group. It sold its medical unit to Canon Inc for nearly $6 billion last year. The Japanese company's two biggest businesses are nuclear reactors and semiconductors.
According to research firm IHS, Toshiba has about 20 percent share in the global NAND flash memory chip market, ranking second after Samsung Electronics which had a 35 percent share.
The Tokyo-headquartered conglomerate is still recovering from a $1.3 billion accounting scandal two years ago. Selling a stake in its profitable memory chip would help Toshiba cope with losses from its nuclear arm.