WeChat calls beat telecom companies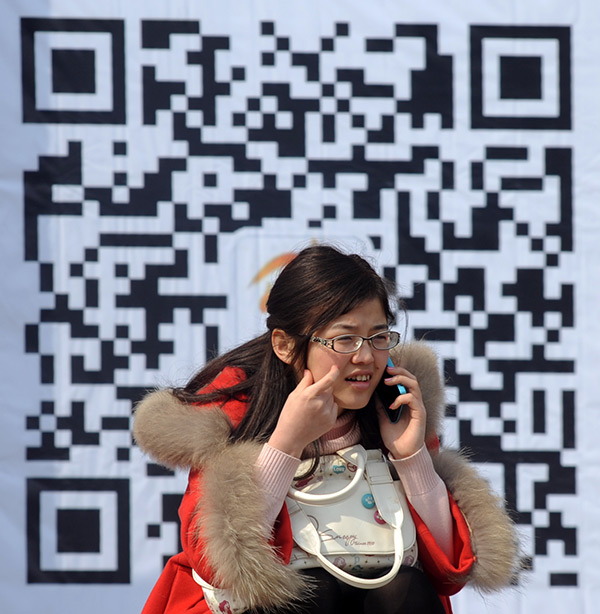 A woman makes a phone call in front of a WeChat QR code poster in Taiyuan, Shanxi province. [Photo/China Daily]
App's runaway success further squeezes margins of operators as they worry about fall in revenue
WeChat has eclipsed telecom carriers to become the new darling for Chinese people to make calls, a study has found.
The 768 million active WeChat users-more than double the entire population of the United States-made over 100 million voice and video calls everyday via the app in 2016, its developer Tencent Group Holdings Ltd said in a report on Wednesday.
With the advent of the faster 4G network and wireless connections, the figure was 1.8 times that of last year, the report found. A typical WeChat user-defined by Tencent as in his or her 20s and 30s-spent on average 65 minutes per month on WeChat-enabled calls.
That further squeezed margins for telecom operators as they worry about a dent in their revenue from over-the-top service providers, the study said.
The country's biggest carrier, China Mobile Communications Corp by revenue, for example, saw its revenue from voice services fall 16.5 percent year-on-year in 2015.
The report found that half of active WeChat users linger on the app for longer than 90 minutes on a daily basis. A typical user sent out 74 messages, up 67 percent from last year, contrasting with a double-digit percent drop in short message service revenue for the likes of China Mobile.
Tencent's all-purpose app encapsulates the functions of Facebook, Uber and PayPal, increasingly making it an inseparable part of China's rising middle class. New features from digital ads to digital wallet are also helping Tencent win new battlegrounds beyond its traditional stronghold, the study found.
For instance, typical users spend 580 yuan ($83.4) per month on distributing red packets, a play on the red envelopes traditionally used to give gifts of money during festivals in China. By doing so, Tencent is intent on cultivating customer habits to use WeChat as a payment channel and a gateway to other business scenarios it hopes to capitalize on.
The report also found that China's elderly people, aged 55 or older, have become the biggest beneficiaries of the app. Many leapt from the pre-web era straight to the mobile internet, skipping the personal computer altogether.
Data showed they spent 17 more minutes every month in audio and video chats than their younger peers, and outperformed them in WeChat Sports, a fitness tracking function that allows motion tracking to share the number of steps users take each day.
WeChat has become a life style in China, as half of its users open it more than 10 times per day, according to Li Chunyan, founder of Feida Consulting.
WeChat creator Zhang Xiaolong said it was set to revolutionize the app industry by introducing "mini-apps" which are apps that do not require installation.
"This will boost the ease of use and reliability of the app, without it becoming inconvenient in terms of storage space and clutter for the user," said Zhang during a recent developers' event in Guangzhou.
The mini apps will not be accessed from WeChat, but most likely through scanning quick response or QR codes.