Hangzhou switched on to smart city thinking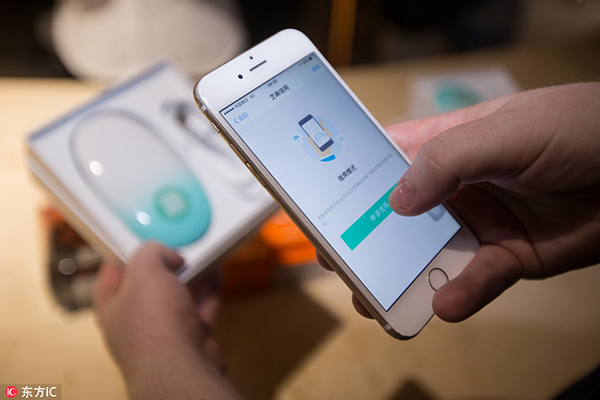 A man uses the Zhima Credit service of Alibaba's Ant Financial on his Apple iPhone smartphone to borrow a mobile power bank for free at the Hangzhou East Railway Station during a one-day tour in Hangzhou city, East China's Zhejiang province, Aug 22, 2016. [Photo/IC]
City ranks top in index measuring progress of Internet Plus strategy, real-time services
Hangzhou, capital of Zhejiang province, has become the biggest beneficiary of mobile internet-enabled social services, with smart cities developing rapidly since the government introduced the Internet Plus initiative.
Hangzhou, Shanghai and Nanjing are among the early birds in utilizing mobile internet and big data to build a system where real-time responses are made to residents' needs, according to the 2016 China Internet Plus and Social Services Index.
Survey results, released on Tuesday by the Internet Society of China and Ant Financial Services Group, a leading e-payment provider, found most Chinese cities adopt a public-private partnership model where social enterprises are engaged in building smart cities.
A number of gauges were applied in evaluating the level of "smartness" of the 352 surveyed cities, including transportation, healthcare, government affairs and education.
"Smart cities are designed to be user-centric. We encourage the private sector to be an active part of it," said Wu Hao, assistant director of the National Development and Reform Commission's Department of High-Tech Industry.
Hangzhou is top of the pile when it comes to internet technology facilitating everything from finding parking lots and paying corporate taxes to making hospital appointments, according to the index.
Wuhan, capital of Hubei province, made a pioneering move in allowing residents to run errands and pay for an array of local services using their smartphones. Notably, the local public security bureau has partnered with China's largest e-wallet services provider Alipay to develop an electronic ID card, which user can access through the app's Wuhan services portal.
Chengdu built its own real-time bus information system by establishing an integrated network that encompasses information for all buses in the city, allowing its users to check how many stops remain before their bus arrives at a specific destination.
Yinchuan, capital of the Ningxia Hui autonomous region, has adopted the nation's first smart city regulation to bolster development of internet-enabled social services and shorten administrative procedures.
Alipay has introduced a redesigned user interface with new functions geared to offer easy mobile access to purchase and pay for products and services. Users with good social credit records may even skip long lines at hospitals by making appointments via the app and receiving diagnosis before paying the bill.
Alipay is now helping more than 150 million users nationwide to access 58 types of social services, according to Eric Jing, CEO of Ant Financial.
Another internet tycoon, Tencent, is also venturing into smart cities using its internet technology infrastructure.
It has asked local governments to move some public services, including social security and car license plate applications, to its mobile platform.
Top 5 cities where the internet is most used
1. Hangzhou
2. Shanghai
3. Nanjing
4.Wuhan
5. Guangzhou
Source: Internet Society of China and Ant Financial