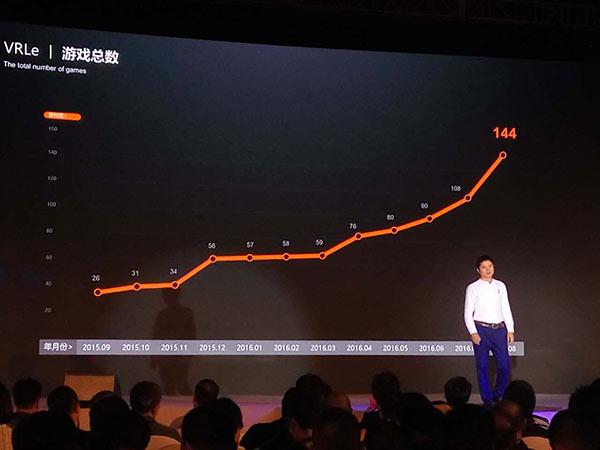 He Wenyi, CEO and founder of Beijing Leke VR Technology Co made a speech on a forum his company held on August 27, 2016 in Beijing.[Photo by Song Jingli/chinadaily.com.cn]
The post-80s founder of VR Le, a cloud platform that serves more than 1,000 offline VR experience stores in the country, defined this soon-to-come period as a VR-park era. VR park can refer to any venue that features VR entertainment, he said during an ecosystem forum his company hosted on August 27, and he compared the VR-park era he envisioned to the internet cafe boom at a time when personal computers were becoming popular. The country witnessed 1.5 billion internet cafes opening since 1995.
According to industry consultancy firm iResearch Consulting Group, this year, the Chinese VR market will exceed 5.6 billion yuan ($880 million) in revenue. That compares to 1.5 billion yuan in 2015. It also estimates that revenue is on track to break 55 billion yuan by 2020.
He revealed that 144 games on his platform have received 5.24 million paid clicks since data became available in September 2015 and attributed this tremendous growth to a VR chair that showed up last year, which became popular instantly, and to VR helmets, which were still in the lab in 2014 but matured quickly and hit the market in April and May this year.