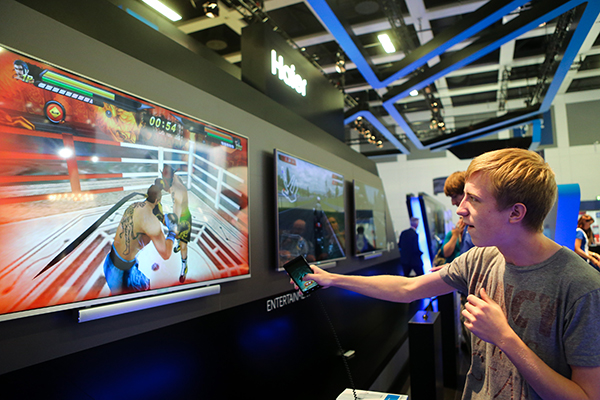 A visitor tries playing interactive TV games at Qingdao Haier Co's stand in a consumer electronics show in Berlin, Germany. [Photo/Xinhua]
Rising middle class in nation leads to an upmarket strategy
China's top two makers of household goods are enjoying an earnings boost as millions of Chinese families increasingly adopt higher-priced smart appliances, such as refrigerators that connect to the internet.
Market leader Midea Group Co, which is buying German robot-maker Kuka AG, saw net income for the first half rise 14 percent to 9.5 billion yuan ($1.4 billion), while Qingdao Haier Co profit surged 21 percent to 3.32 billion yuan, according to statements to Chinese stock exchanges on Tuesday.
The two companies are among Chinese manufacturers that are spending billions of dollars to buy technology from overseas competitors as they compete to outfit homes with smart appliances. Midea earlier this year agreed to buy majority stakes in Italian air conditioner maker Clivet SpA and the home appliance unit of Japan's Toshiba Corp. Meanwhile, Qingdao Haier in June completed its $5.6 billion acquisition of GE Appliances, General Electric Co's appliance business.
"There is growth potential as urbanization rates rise and the middle class, which is now opting for better-quality products, expands in China," Liu Chidao, a SWS Research Co analyst, wrote in a report this month. "An increasing number of firms are stepping up efforts to diversify into new markets or achieve differentiation through advanced technology."
Revenue at the Qingdao-based unit of Haier Group was 48.8 billion yuan, compared with a restated 47.3 billion yuan a year ago, while Foshan-based Midea's profit rose even as sales fell 6 percent.
Haier Electronics Group Co, the Hong Kong-listed sister company of Qingdao Haier, also reported that first-half profit rose 3 percent to 1.13 billion yuan, even as revenue slipped 8.1 percent to 28.8 billion yuan, according to a statement on Wednesday.
Qingdao Haier shares rose as much as 1 percent to 10.41 yuan in Shanghai trading-the highest level since Aug 19. Midea shares rose as much as 2 percent to 27.41 yuan in Shenzhen. In Hong Kong, Haier Electronics fell as much as 1.5 percent to HK$12.94 ($1.67). The Shanghai Shenzhen CSI 300 Index was little changed.
Midea in May also made a cash offer for a majority stake in Kuka that valued it at 4.6 billion euros ($5.1 billion), a purchase aimed at helping Midea transform its manufacturing line with Kuka's robot technology. That had initially drawn opposition from German politicians, although the country's Economy Ministry said on Aug 17 it won't open a formal probe into the deal.
Bloomberg