How China may unwittingly get the Indian tech edge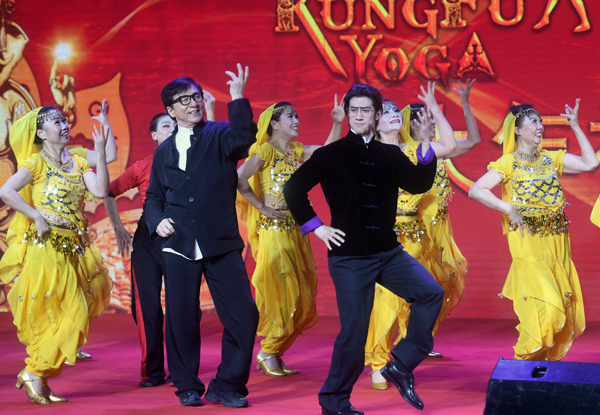 Actors in movie Kungfu Yoga perform a dance in Beijing. [Photo/Xinhua]
When I decided to relocate to Beijing from Mumbai in September 2015, a couple of concerns weighed on my mind: Will vegetarian food be available in local restaurants? Will there be compatriots to hang out with occasionally, given that the West has been perceived as the "land of opportunity" by outward-bound Indian talent for so long?
On both counts, China has sprung pleasant surprises. Little did I imagine that China is home to thousands of nonresident Indians or NRIs.
Most of them gathered on Jan 26 at Indian diplomatic missions across China to celebrate not just their motherland's 68th Republic Day but what could well be the Next Big Business Opportunity arising from Donald Trump's predilection for protectionism.
That's how globalization will play out this century-one Trump's poison is another man's (or economy's) trump card. If there is one immigrant skilled worker group that has helped Silicon Valley become what it is today more than others, that must be Indian software programmers.
This community is growing slowly but surely in China. As I mingled, interacted with and befriended NRIs in China, I realized the Indian software community's numbers have been growing. While official figures are unavailable, I'd dare say the figure is no longer in tens but hundreds, possibly even thousands.
Among my NRI acquaintances in China are a video graphics specialist working for a Chinese animation firm, and code writers and tech experts working for Chinese tech firms as well as local branches of Indian, US and Japanese multinationals.
Kika, a Chinese app maker, employs Indian talent to develop sophisticated digital keyboards in tens of regional Indian languages for hand-held devices. Cheetah Mobile, another Chinese app developer, employs content specialists from India.
There are other aspects to growing bilateral business ties that are enriching the billion-plus nations on either side of the Himalayas.
Indian yoga gurus are setting up fitness studios across Chinese cities. New Chinese movies Kungfu Yoga, Buddies in India, and The Journey to the West: The Demons Strike Back, with Indian elements and artistes in their plots, casts or credits, have already raked in millions of dollars at the box office.
Online stores on Taobao find it feasible to sell Indian groceries and vegetables to NRIs in China. Indian restaurants in China are increasing too.
Thousands of Indian students enroll in Chinese universities every year, particularly for medical, management and computing degrees and research. I asked one of them if he would stick on in China for work after completing his PhD in mobile computing. That's a no-brainer, he said.
A couple of medical students that I know double up as DJs during their spare time to earn some pocket money. Local businesses are benefiting from their services. Indian banks are awaiting regulatory approvals to set up new branches in China.
South of the Himalayas, Chinese goods, particularly gadgets, outsell Indian, US, European, South Korean and Japanese brands. Chinese handsets from Xiaomi, Huawei, vivo, Oppo, Lenovo, OnePlus and Gionee collectively now command more than 50 percent share of India's $10-billion smartphone market.
Chinese investors are keen to back Indian tech startups that could help foster bilateral projects, particularly in areas like robotics, artificial intelligence, virtual reality, online financial services and e-commerce, to make the most of China's policy support for innovation, high-end manufacturing and foreign talent.
Amid all this, Trump's protectionism is expected to constrict both the outflow of Indian tech talent to the US and the outsourcing of back end tech jobs to India. This could well play into China's hands.
Small wonder, NRIs in China are swearing by the cosmic belief that when one door shuts, another opens for business elsewhere.