EV sales rise by 80% to 77,000 units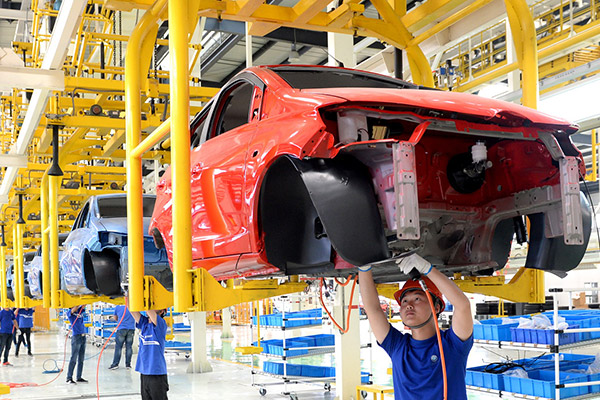 Workers assemble electric cars at a state-of-the-art plant in Rugao, Jiangsu province. [Photo/Xinhua]
Electric vehicle sales in China jumped by 80 percent last month to 77,000 models compared to the same period in 2016.
The China Association of Automobile Manufacturers reported that the figure was "beyond expectations" and was another step toward achieving this year's industry sales goal of 700,000 e-vehicles.
Development in EVs has helped China's automakers catch up with major global players, according to analysts and consultants.
Xu Haidong, assistant to the secretary general at CAAM, stressed that EV sales in the first three quarters of 398,000 was a good sign of an expanding market.
"The fourth quarter is usually the peak season for sales of EVs in China," Xu said. "We expect the annual sales goal of 700,000 EVs to be met."
Last month, consultancy McKinsey & Co reported that e-vehicles had become increasingly popular with Chinese motorists.
The research firm pointed to low energy costs, easier access to roads in major cities, such as Beijing and Shanghai, amid traffic restrictions, and environmental benefits.
"Making EVs requires a lower threshold of capital compared to manufacturing gasoline-powered automobile engines," said George Gillespie, CEO at HORIBA MIRA, an auto consultancy in the United Kingdom. "This enables more players to enter the market than we have seen before."
In China, the auto sector is still expanding, and offers opportunities for automobile manufacturers and consultancy service providers.
Even though gasoline-powered cars dominate the market, the switch to e-vehicles is gathering pace as Chinese EV makers increase quality and reliability.
Jeff Cai, general manager of auto product practices at J.D. Power China, a global market research company, said that certain Chinese automobile manufacturers have seen their reputations grow.
"Some have made the breakthrough when it comes to quality and this has been recognized by consumers," Cai added.
China's central government is already considering launching a timetable for ending sales of gasoline-powered private cars, according to industrial bodies.