Future Mobility brings connected car age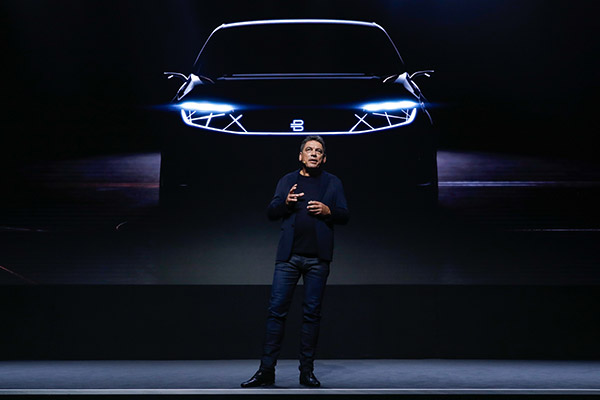 Carsten Breitfeld, CEO of Future Mobility Corp, introduces the Byton SUV's innovative user interface. [Photo provided to China Daily]
FMC launches Byton brand, a next-generation smart device
Chinese electric car startup Future Mobility Corp said it is now ready to charge ahead into an increasingly digitalized era with its brand Byton, an ambition made public last week in Shanghai.
"Byton is inspired by 'bytes on wheels'. Byte stands for the internet and wheel stands for the auto industry. We want to build Byton into the next-generation smart device," said Daniel Kirchert, president of the 1-year-old startup when he addressed the audience.
Kirchert believes that a pleasant onboard experience is becoming increasingly important as the auto industry evolves and traffic is becoming heavier in cities.
"We are not made to wait in traffic. We are made to live our life to the full, to enjoy the moment we have. So for mobility engineers for the next 100 years, it's no longer about refining cars, it's about refining life.
"We are here to turn driving into living, we are here to provide enjoyable time for people on the move," he said.
Carsten Breitfeld, former head of BMW's i8 program and now CEO of FMC, said Byton models are a combination of three things: a smart internet communicator, a spacious luxury living room and a fully electric car.
One highlight is the large display. Measuring 125 centimeters long and 25 cm tall, it will provide everything drivers need and is also designed to share the experience with passengers sitting in the front and second rows.
Steering wheels on Byton models are installed with a touch-screen tablet that will allow the driver to interact with the shared experience display, offering the car's most important information and control functions at the driver's fingertips.
Byton's first model, a midsized SUV, is to make its debut at the Las Vegas Consumer Electronics Show in early 2018. It will start production in 2019.
Breitfeld said it has the size of an Audi Q5 but boasts the space of a Mercedes-Benz S-class sedan.
The model will have different versions, running 350 kilometers or 500 km on one charge. Within 10 minutes of charging, it can drive as far as 120 km.
The first Byton is "prepared for autonomy", according to Breitfeld.
"It will have the hardware - the sensors and computing power - that enable it to achieve up to level five autonomous driving, whereas the actual autonomous capability can be flexibly enabled and upgraded by software and over the air."
Besides the SUV, a sedan is scheduled to hit the market in 2021 and a seven-seat MPV, 2022.
FMC's plant in Nanjing, Jiangsu province, which has a designed annual capacity of 300,000 units, has been under construction for some time. When phase one of the plant is finished in 2019, it will be able to produce 100,000 cars a year.
"I believe our startup is founded just at the right time - the coming age of connected cars. Just as Tesla being the pioneer of electric cars, we want to be the pioneer of connected cars," said Breitfeld.