Dealers face stiff after-sales competition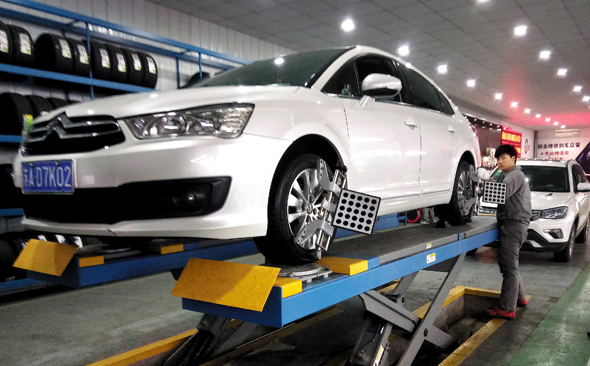 Non-authorized dealers are now attracting new car owners mainly for after-sales services such as lube, oil or filter and routine maintenance. AN XIN / FOR CHINA DAILY
Customers seek more convenient providers elsewhere, despite having valid warranties, Li Fusheng reports.
After-sales services are replacing car sales as the largest source of car dealers' profits, but they face a challenging market to retain customers who, it seems, are increasingly turning to alternative options.
A recent JD Power survey shows that vehicle owners in China often turn to non-authorized dealers, including fast-service chain stores and roadside mechanics, in the early stages of ownership, even when most vehicles are still under warranty.
The 2017 China Customer Service Index Study is based on online surveys and face-to-face interviews with 42,561 people who purchased their vehicles between 2012 and 2016. It was conducted between December 2016 and May 2017 in 62 major cities in China.
The study's findings released late last week show that owners of 1-year-old to 4-year-old vehicles have made an average of 3.2 visits to dealers and 0.9 to non-dealers for services in the past year.
The number of visits may suggest that dealers can rest assured, but a close look reveals a far more dangerous picture.
Customers' expenditure on aftersales services at dealers and nondealers in the past year is very close, an average of 2,450 yuan ($364) and 2,098 yuan, respectively.
Even more alarming is the fact that of those who had opted for maintenance services at non-authorized dealers in the past year, 71 percent of their cars were still under warranty.
Forty-three percent of survey respondents said the main reason behind their choice was convenience of location, followed by 23 percent who said convenient opening hours drove their choice, 23 percent who chose on the back of a recommendation from a friend or relative, and 21 percent who sought faster services.
"These reasons are closely associated with service quality and customers' satisfaction," said Ann Xie, a senior research director at JD Power China.
"For dealers, the battle for customer loyalty starts right from the beginning."
But this does not signal the end for dealers. New-vehicle owners visit non-dealers mainly for simple services such as lube, oil or filter changes (40 percent) and other routine maintenance (33 percent), while emergency repairs accounted for 24 percent and non-emergency ones for 22 percent among survey respondents.
There is a piece of good news for dealers. The study shows that the overall rating on dealers' services was "outstanding". Non-dealers' services were rated only "average," with the rating for non-dealer visits decreasing as the length of ownership increases.
"A lower level of satisfaction with non-dealers among new vehicle owners provides dealers an opportunity to win over these customers at the time their warranties just begin to expire," said Frank Hu, general manager of auto retail at JD Power China.
Opportunities lie in offering more convenient and diversified services. JD Power's findings show, for example, door-to-door services would be a plus.
Nearly 70 percent of vehicle owners who responded to the survey had no idea of any door-to-door maintenance and repair service.
Among those who have tried door-to-door services, half said they were "pleased" or "delighted" with them, and more than 90 percent said they "probably would" or "certainly would" use such a service again in the future.
Another tip for the dealers is asking their salesmen to open their mouths at a right time.
The findings show that when they recommend services in addition to the original work requested-especially when the recommendations are accepted-the average satisfaction score increases to 755 (on a 1,000-point scale), and the average money customers spend is 917 yuan.
When no additional services are recommended, the satisfaction score is only 700, with an average expenditure of 666 yuan.
But, dealers should watch out for tire replacement, which is a major trigger of poor satisfaction, according to JD Power.
When car owners seek new tires, dealers are very likely to lose their custom to non-dealer service facilities, with 7 percent of customers lost when the cars are under warranty and 27 percent when they are not.