China power battery makers face saturated market within two years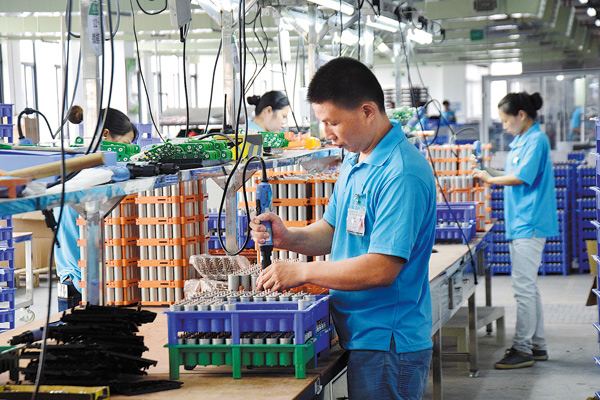 Workers check new energy car batteries at the Shenzhen-based OptimumNano Energy Co. HE MAOFENG / FOR CHINA DAILY
After years of rapid growth, Chinese power battery makers are looking at a saturated market within the next two years, despite a continuing shortage of high-end domestic products.
There's been a production capacity race among Chinese power battery manufacturers, thanks to the authorities' continuous encouragement since the market boom in 2015.
"The Chinese power battery sector entered overcapacity status in 2016, and will be more excessive in 2018 or 2019," said Zhang Junyi, partner of Nio Capital, a Wuhan-based investment firm co-established by electric vehicle company NextEV, Sequoia Capital and Hillhouse Capital.
"The battery makers decided to build more plants when they saw the e-car market leapfrog in 2015, and hoped to seize the opportunity," he said.
China's Vehicle Traction Battery Industrial Development Action Plan, issued in March, set out an industrywide target of 100 gWh (gigawatt-hours) annual battery production capacity by 2020.
But industrial data shows the nation's total production capacity exceeded 100 gWh as of 2016, and may exceed 170 gWh by 2020.
Currently, the big five domestic power battery makers that contribute about 50 GWh capacity, half of the nation's total, will see their production expanded to more than 124 GWh in the next three years.
Zhang noted: "It may not be accurate to simply put all the battery makers' production capacity together, because the realization depends on many factors."
Ye Liang, a Shanghai-based principal of German consulting firm Roland Berger Consultants said there would be deductions in the planned capacity when put into practice, and the reality could be complicated, as the plug-in hybrid and blade electric technologies are different, while the commercial vehicles have battery packs different than those used in passenger cars.
Ye said "the predicted 170 gWh may finally turn into 120 gWh in reality, but is still sufficient for 2 million electric cars with 60 kilowatt-hours batteries in a simplified situation."
John Zeng, managing director of LMC Automotive Consulting (Shanghai) Co, predicted China's e-car volume will reach about 2 million units by 2020, with the overwhelming majority employing low-end solutions carrying limited battery packs.
"About 96 percent of the new-energy market goes to sub-compact and mini-size models at a price range below 100,000 yuan ($14,925). They use low-power batteries that won't consume a lot (of) capacity like the high-performance electric sports car."
The full-electric models, at 100,000 yuan after government subsidies, usually carry battery packs of about 25 kWh. For example, the BAIC EV160 has a battery pack of 25.6 kWh.
Based on their published expectations, the big five power battery manufacturers' 124 gWh planned capacity in 2020 will be sufficient for about 5 million 25 kWh full-electric cars.
A Tesla electric vehicle carries batteries with 75 kWh or 100 kWh capacity, and Denza and BYD E6 are powered by a 62 kWh battery pack, but they are not the mainstream in the Chinese market.
"The premium electric cars, like Tesla, contribute only 1 to 2 percent market share," Zeng said.
"The remaining 2 to 3 percent goes to mid-level ones at 200,000 to 300,000 price range, including Denza and BYD E6."
Another factor triggering the speeded-up capacity expansion is the domestic regulation threshold of 8 gWh annual capacity, which was set by the Ministry of Industry and Information Technology in November 2016, according to sources who declined to be named.
However, only BYD Co and Contemporary Amperex Technology, or CATL, have registered sales of more than 6 GWh worth of products in 2016.
As a result, many of the battery makers started their capacity expansion in an expectation of reaching the threshold and surviving.
Both Zhang at Nio Capital and Ye at Roland Berger share the opinion that though low-end capacity is excessive, production of the high-power batteries for premium electric cars is still short.
Ye said: "Only some leading domestic manufacturers are capable of making high-quality batteries, which is and will be short of the market demands.
"Without meeting the auto makers' standards, the obsolete low-end battery plants will be dismissed by the market, or acquired by stronger companies." The international power battery makers have entered the world's largest market.
Panasonic Energy's Chinese venture now produces the AAsize 18650 cells for electric cars with an annual capacity of 100 million this year. Samsung and LG are both building massive production facilities in China with local partners.