German giants do battle in luxury sector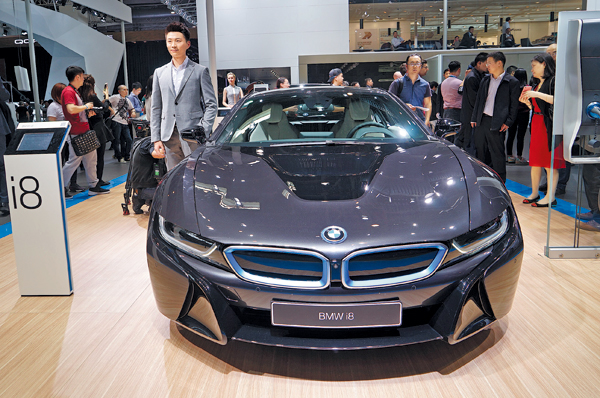 BMW's i8 catches visitors' eyes at the Beijing Auto Show last year. PROVIDED TO CHINA DAILY
Sales figures fail to tell the story in rivalry among three premium carmakers, Li Fusheng reports.
China is probably home to the most intense competition among premium carmakers, and this competition may reach a tipping point this year that results in a changing of, if not the guard, then the order of the top players.
Premium car brands had a bumper year in the country last year, with combined sales of the top 10 marques reaching 2.18 million cars, a 17.15 percent surge year-on-year.
The three German giants-Audi, BMW and Mercedes-Benz-consolidated their top-three positions in China's premium car market, accounting for 72.5 percent of the top 10 brands' total sales. The automakers also retained their respective positions, which have remained unchanged since they entered the market in the 1990s.
But a closer look at their sales gaps and growth rates reveals something different. Audi's China sales edged 3.7 percent to nearly 590,000 units, BMW's grew 11.3 percent to 516,000 units while Mercedes-Benz's sales soared 27 percent to 480,000 units, which helped the marque to regain its global sales crown.
The trend has continued into this year. BMW sold 51,000 cars in January in China, Mercedes-Benz delivered 7,000 units more than BMW, while Audi saw its sales slump 35 percent year-on-year to 35,181 units, the first time it has been bested by its compatriots.
In a statement released on Feb 14, Audi blamed the drop on "restrained" activity by its China dealers as the company focused on developing a "long-term, strategic growth plan for the coming decade" with FAW Group Corp, its main Chinese partner.
Dietmar Voggenreiter, Audi AG's board member for sales and marketing, said: "We remain equally optimistic about our future business development in China."
Things took another unexpected turn on Feb 16 when the newly established Audi Dealer Association voiced a new wave of opposition to the German carmaker's intention to produce and sell cars with the country's SAIC Motor.
The association pointed to Audi's estimate, made in 2012, that its China sales would hit 1 million units in 2020.
"We would like to join hands with Audi to realize the goal of selling 1 million cars by 2020 and after the goal is realized we will not object to its intention of building new partnerships," the Audi dealers association wrote in an open letter.
John Zeng, managing director of LMC Automotive Consulting Shanghai, expressed concern that the ongoing discord between Audi and its dealers would further affect its sales and image.
"If Audi's goal is to sell more cars, setting up a new dealer network will not help it to achieve this aim. BMW and Mercedez-Benz have not achieved such rapid sales growth because they have more dealers."
Zhang Pijie, general manager of FAW-Volkswagen, which is localizing Audi models, said Audi will adopt a flexible plan to keep its lead in the premium segment.
All three of the leading German luxury carmakers have released plans to introduce new models, with Audi set to introduce seven, BMW, 14, and Mercedes-Benz, 15.
Audi's localized A3, which has been dominating the premium compact car market, may see greater competition when BMW's Chinamade 1 Series hit the market, and its new 5 Series sedan is set to become one of the best-selling models in its segment.
Yet Mercedes-Benz's long wheelbase E class sedan, which was launched in the second half of 2016, is expected to see its sales grow this year, and its C class was the bestseller in its segment in January.
Mercedes-Benz, which posted the fastest growth in 2016, has remained the calmest of the three over sales figures. "It has never been our goal (to chase sales figures) and it remains our approach not to seek volume growth at any price," said Nicholas Speeks, president and CEO of Beijing Mercedes-Benz Sales Service Co.
Second-echelon marques
Three of the second-echelon marques-Jaguar Land Rover, Cadillac and Lexus-each sold more than 100,000 units for the first time in 2016, with a gap between the first two as close as 1,000 cars.
However, Cadillac beat JLR in January with a margin of around 6,000 units. Its sales of 18,000 units in the month also made China its largest market for the first time, pushing the United States, its home country, into second place.
Lexus sold 9,400 units in the month, lagging behind Cadillac and JLR.
While most premium marques are looking to increase their localized models, Lexus has insisted on selling imported cars in China.
The Japanese marque is about to roll out a revamped brand strategy this year, featuring tremendous design changes, said Tetsuya Ezumi, executive vice-president of its China unit.
Infiniti, the premium arm of Nissan Motor, sold 3,590 cars in January, seven units more than the same month last year, representing basically zero growth.
Without stronger growth, it may be surpassed by its nearest rival Lincoln this year, which sold around 10,000 units less than Infiniti in 2016 but saw its sales almost triple in the year.