Porsche joins race for electric vehicles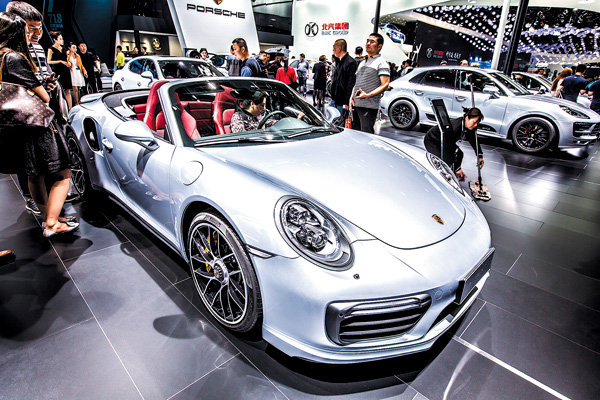 Porsche's 911 Turbo S attracts fans at the Beijing Auto Show in April 2016. [Photo provided to China Daily]
German luxury carmaker Porsche AG announced it will launch its first purely electric sports car within two years in response to the increasing global appetite for new energy vehicles.
Franz Jung, president and CEO of Porsche China, said the Mission E model will be launched in 2019 and will be available in China from around 2020.
Jung said the car, which will meet customers' high expectations for typical Porsche performance, will be competitive in the electric car segment and provide customers with yet another choice. He said he believes that the company's serious rivals will not be models originating from internet-based companies.
Several of these, such as LeEco-backed Faraday Future, have unveiled their concept cars, announcing that their models will hit the market in about two years.
Jung said that one or two startups, including Tesla, might develop into serious players, but it is not so easy to start car production from scratch.
"They look nice and exciting on stage, but producing a car with the quality a serious car should have is a completely different story." Jung said that the market needs to wait to see if these players are able to turn being impressive on paper or on stage into success in production.
Porsche is now selling two plug-in hybrid models in China-the Cayenne S E-Hybrid and the new Panamera 4 E-Hybrid Executive. New energy vehicles accounted for around 5 percent of the carmaker's total China sales last year.
Of Cayenne-branded sales in China in 2016, some 11 percent were plug-in vehicles.
Largest market
China has been Porsche's largest market since 2015. Last year, it delivered 65,246 cars to customers on the mainland, in Hong Kong and in Macao, an increase of 12 percent year-on-year, double its worldwide growth.
Porsche said its entry-level Macan SUV accounted for more than half of its China sales and its other SUV Cayenne models also perform well.
"We were very early with our offers and that's why we have been so successful," said Jung. Porsche introduced its Macan to China in 2014 and its Cayenne several years earlier.
He said he believes that it would be "way too late" for rival brands, including Italian luxury carmaker Maserati, to design and deliver SUVs for the market now.
Aside from SUVs, China has risen to become Porsche's fourth-largest market for its sports cars, including the 718 Boxster, 718 Cayman and Panamera. Porsche expects its growth in 2017 to stay in line with the Chinese industry's average growth rate.
However, Jung said sales growth is not Porsche's sole goal. "We have many other goals as well. We want to be profitable, we want our dealers to be profitable and we want our customers to be happy."
Porsche's sales network now extends to 96 dealers across China. David Xiao, vice-president of Porsche China for sales, said a dozen more will join this year, with some of them in smaller cities.