Lower subsidies, renewed list see new energy car sales slump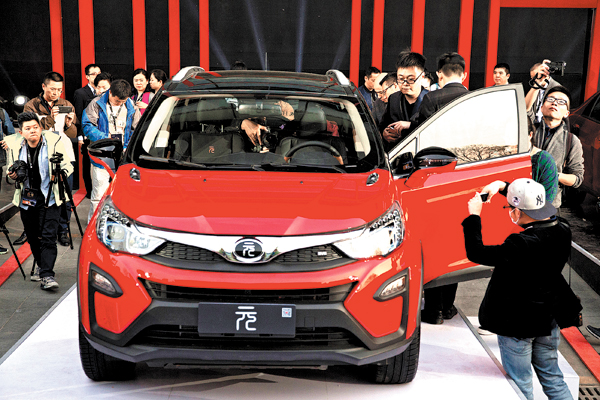 People take a closer look at BYD's plug-in hybrid model Yuan before its launch in Beijing in April 2016. [Photo / Agencies]
Industry group expects purchases to hit at least 700,000 units this year
China's new energy car sales plummeted in January following a December surge, but the country's automakers association remains optimistic about the sector's performance this year.
A total of 5,682 electric cars, plug-in hybrids and fuel cell cars were sold in the first month of 2017, in stark contrast to the monthly sales record of 104,000 units in December, according to statistics the China Association of Automobile Manufacturers released last week.
January's sales figures represented a 74.4 percent slump year-on-year, also coming in as the lowest monthly result since 2014, a year widely regarded as marking the establishment of new energy vehicles in China's automotive market.
The major causes of the sales slump are the revised central government subsidies for new energy vehicles and the narrowed list of models eligible for those subsidies, said Xu Haidong, an assistant to the CAAM's secretary-general. On Dec 29, the central authorities renewed the standards of new energy vehicle subsidies for 2017. Each vehicle sold this year will receive 20 percent less funding than it would have in 2016.
The revision also raises technological standards, including battery capacity and top speed, for cars to be eligible for subsidies in the first place.
The move means a new list of models that qualify for subsidies will be compiled to replace the 2016 one.
The Ministry of Industry and Information Technology released the first batch of cars on the new list on Jan 23.
With a total of 185 models identified, it is much shorter than the 2,198 models listed in 2016.
"So, many new energy carmakers withheld sales in the month, because models not on the list are not eligible for subsidies," said Xu.
In addition to their ineligibility for subsidies, those models removed from the 2016 list will not receive license plates from the authorities, reported the Securities Time newspaper.
So many have suspended sales of such cars, including the BAIC EV 260, the report said quoting dealers in Beijing.
For those models already on the list, local subsidy policies are another impediment. Unlike the central government's financial support, local governments' subsidies differ from region to region.
As few provinces have made clear how much they will offer to each car sold, it is difficult for automakers to work out pricing and sales plans.
To alleviate the effects on sales, the world's largest new energy automaker BYD is pre-paying a sum to customers at 50 percent of the central government's subsidy, the upper limit of regional subsidies, according to news portal Bitauto.
However, Xu said the market will return to normal gradually as more models qualified for subsidies are approved.
The MIIT released a new batch of 209 models for public opinion on Feb 14, which are expected to soon join those already on the list.
Xu said: "Despite sales in January being a little bit surprising, we are optimistic about the year's sales, which we expect to reach 700,000 or 800,000 vehicles."
China sold 517,000 new energy vehicles last year and has been the largest global market for such vehicles since 2015.
The policy changes are prompting carmakers to prepare themselves, as officials have been clear that government subsidies will be further cut in 2018 and stop altogether in 2020.
JAC Motor spokesman Wang Dongsheng said that under such circumstances, automakers will have to improve their products and slash their costs to stay competitive in the market.
"The central government will not offer subsidies forever, and regional subsidies are even harder to obtain, so carmakers should get well prepared and first make sure that they are profitable without regional subsidies," Wang said.