Dongfeng seen benefiting from Opel's technology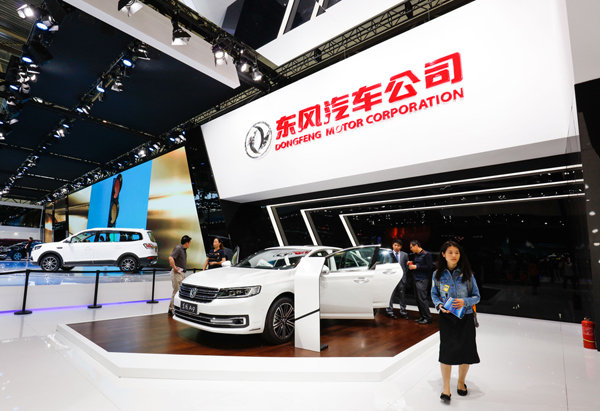 Dongfeng Motor Corporation's stand at Auto China 2016 in Beijing, May 3, 2016. [Photo/VCG]
Dongfeng Motor Group Co has seen its stake in PSA Group more than double in value to 2.2 billion euros ($2.3 billion), since bailing out the maker of Peugeot and Citroen cars in 2014.
Now, China's second-largest carmaker stands to gain even more should the French company succeed in buying GM's Opel.
The German unit's technology, already used in popular Chinese models like the Buick Regal, could further boost Dongfeng's ambitions.
While General Motors Co has pulled Opel out of China in favor of brands like Buick and Chevrolet, the European nameplate's engineering and development expertise could be a boon for Paris-based PSA and Dongfeng's stalled efforts to expand in the world's largest auto market.
PSA said on Tuesday it's exploring an acquisition of GM's European operations after Bloomberg News reported the talks. A purchase would vault the French manufacturer past Renault SA into the No 2 spot among the region's automakers, behind Volkswagen AG. However, it's in China, a market that Opel exited in 2015, where its technology could be put to added use.
"Although Opel hasn't been a successful brand in China, many of the popular GM models were actually developed based on Opel's platforms," said Zhou Jincheng, a Nagoya-based analyst with Fourin Inc, an automotive-industry research company.
"Opel could contribute to PSA-Dongfeng by joint development of models for China under PSA brands, or even providing its technologies to Dongfeng's own brands."
Zhou Mi, a Dongfeng spokesman, declined to comment on the implications of such a deal for the Chinese carmaker.
Dongfeng's operations with PSA could do with some help. The two brands suffer from a dearth of sport utility vehicles at a time when consumer preferences are shifting away from the traditional sedan.
Bloomberg