VW reaches $1.2 billion resolution over Audi, Porsche diesels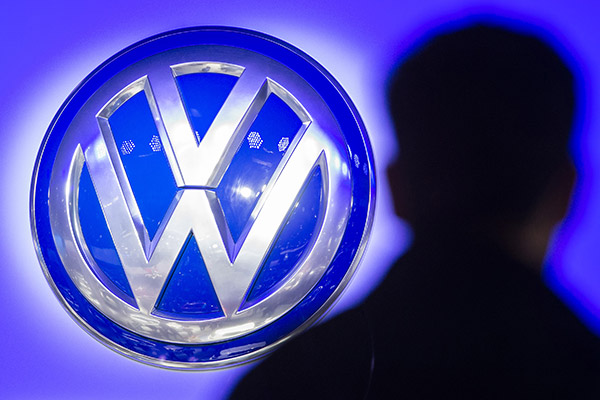 US Federal Trade Commission and drivers of about 78,000 diesel models with 3.0-liter engines, bring the total cost of penalties, buybacks and fixes in North America to more than $23 billion as Volkswagen tries to overcome the biggest scandal in modern automotive history. [Photo/Agencies]
Volkswagen AG agreed to pay $1.2 billion to resolve United States consumer claims over rigged large diesel engines, the latest step in working through a pile of legal challenges resulting from its emissions-cheating scandal.
The proposed settlement, with the Federal Trade Commission and drivers of about 78,000 diesel models with 3.0-liter engines, brings the total cost of penalties, buybacks and fixes in North America to more than $23 billion as Volkswagen tries to overcome the biggest scandal in modern automotive history.
The deal covers VW Touaregs, several Audi models and Porsche Cayennes, according to filings in San Francisco federal court.
"We will continue to work to earn back the trust of all our stakeholders," Hinrich Woebcken, CEO of Volkswagen Group of America, said in a statement. The agreement means that all customers with affected vehicles in the US now have "a resolution available to them."
The accord comes as partisan bickering escalates over President Donald Trump's pick to lead the Environmental Protection Agency, the nation's chief regulator of auto emissions.
Senate Democrats on Wednesday boycotted a committee vote to advance the confirmation of Oklahoma Attorney General Scott Pruitt amid questions about his commitment to upholding clean air and water protections.
Consumers don't have to worry about Trump interfering with the settlement through any overhauls at the EPA or Justice Department, said lead plaintiffs' attorney Elizabeth Cabraser.
"We are very confident that no matter what happens in Washington, we have a federal district court that all the plaintiffs have entrusted to have ongoing jurisdiction over this case until everything is resolved," she said in a conference call.
"It's not just the Department of Justice and Environmental Protection Agency who can enforce consumers' interests. It's also up to us as well as the FTC."
Biggest carmaker
Volkswagen, the world's biggest carmaker, admitted in September 2015 that about 11 million of its diesel cars were outfitted with software used to deceive emissions testers, sparking probes, lawsuits and recalls around the world.
Costs resulting from the scandal so far have blown past the 18.2 billion euros ($19.6 billion) that the company has set aside to deal with the issue.
The tally of costs in North America includes a $14.7 billion agreement reached last year to buy back cars with 2.0-liter diesel engines and a $4.3 billion settlement of criminal and civil penalties in the United States reached in January, in which the company pleaded guilty to three felony counts.
Volkswagen is also involved in investor lawsuits in the US and in Germany related to how the emissions-test rigging affected the stock price, as well as consumer lawsuits and a criminal probe in Germany.
'Defeat device'
The 3-liter engines covered by the settlement filed just before midnight Tuesday in San Francisco have software that detects when the car's emissions are being tested and turns on pollution controls not in use while the car is on the road.
Volkswagen's Audi unit, which developed the motors, initially denied the problem was a "defeat device".
The agreement requires Volkswagen to compensate affected customers, fix about 58,000 cars and buy back as many as 20,000 Touareg and Audi Q7 sport utility vehicles.
Repurchasing those cars comes on top of the 482,000 2-liter autos that are being bought back or repaired under a previous agreement.
Owners of unfixable cars will be eligible for cash compensation of as much as $13,880, according to a statement from the plaintiffs' lawyers.
Drivers with vehicles that can be brought up to standard could receive as much as $16,114.
The deal finalizes terms outlined in December, when the cost was estimated at around $1 billion.
VW's burden from the issue will increase to as much as $4.04 billion if the repairs don't take place on time, according to the filing.
Bloomberg