Kia dealers unite to seek compensation for losses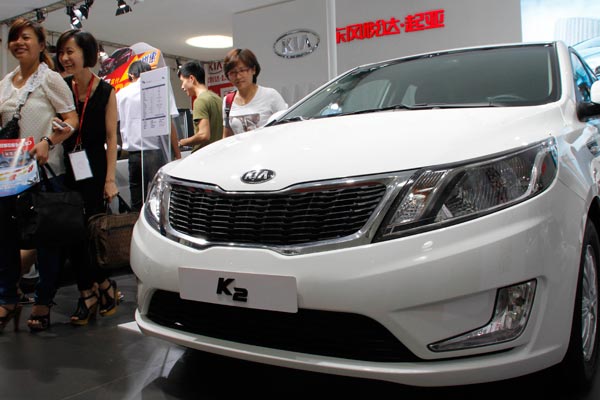 More than 100 dealers of Dongfeng Yueda Kia Motor form a working group last week to claim 2,000 yuan ($290) for each Kia-branded car sold in 2016. [Photo by Shi Yan/For China Daily]
Working group claims joint venture's policies, prices were misleading, if not illegal
Kia's Chinese dealers joined hands in seeking compensation after suffering losses and overstock, arguing that the automaker's business strategies over the past two years were unfair and unreasonable.
More than 100 dealers of Dongfeng Yueda Kia Motor formed a working group last week to claim 2,000 yuan ($290) for each Kia-branded car sold in 2016 as compensation for overstock caused by the forced buying-in of unpopular models.
"The dealers' losses have totaled 5 billion yuan over the past two years, counting all of the about 500 dealerships' showrooms nationwide," Chen Keyun, head of the working group, told China Daily on Jan 17.
"Dongfeng Yueda Kia wrongfully set unreasonably high wholesale prices, but the customers by no means accept such an unreasonable price."
According to Zeng Zhiling, managing director of LMC Automotive Consulting, Dongfeng Yueda Kia's pricing and positioning strategies are among its major weaknesses.
"Kia-branded cars are priced very similarly to brands from the United States and Europe. The unreasonable prices are not attractive to customers, as the South Korean brand and its products are not strong enough," he said. "Customers seeking value for money have turned to Chinese brands, which have improved greatly in the past several years.
"Kia and its sister brand Hyundai have such similar positions and products that they are now each other's rivals. Kia has not realized synergy with Hyundai, like Buick and Chevrolet did within General Motors. Buick is at a more premium level than Chevy."
Chen said the small dealers witnessed their showroom visits drop all the way, but were not allowed to correct the retail price with a discount. The Sino-South Korean joint venture gave them business policies that forbade discounts below a set amount, or the dealership's authorization would be cancelled.
Zhang Yang, an attorney with Allbright Law Offices, advised that if an agreement sets the retail price's ceiling or floor, both the automaker and the dealers would be suspected of being involved in a monopoly.
He suggested: "If appropriate, the dealers may inform the government pricing watchdog of the carmaker's behaviors. However, both the carmaker and the dealers might be subject to a fine, as they entered into a price-fixing agreement, be it forced or voluntary."
Local Chinese media reported that some dealers did not pin hopes on the automaker any longer and sold the stock cars at discounted prices, lower than the buy-in price. They endured the losses to gain some cash flow to avoid bankruptcy.
"More than 100 dealers have already abandoned ship in the past two years, so the dealership network shrunk to a little more than 500 this year, down from 680 a few years ago. Now, about 130 dealers are on the verge of bankruptcy, including mine," Chen said.
Exaggerated sales
The Dongfeng Yueda Kia dealers working group has now refused to buy any more stock until the carmaker establishes a healthy mechanism for their performance assessment and a more beneficial business policy.
A report by the China Auto Dealers Chamber of Commerce showed Dongfeng Yueda Kia's dealership network will be as large as 500 this year, with each dealer holding a stock of 240 vehicles on average, far beyond the alert level.
"It could take as long as five months to find buyers for our overstock," Chen said.
A healthy stock level is an amount of cars that could be sold within a two-month period, according to the dealers' chamber. A dealer that sells an average of 50 cars monthly could retain 100 units of overstock and be regarded as healthy.
Many Dongfeng Yueda Kia showrooms now have about 20 sales units each month, despite previously selling 50 to 60 Kia cars monthly, according to Chen.
"They forced the dealers to take in so many unpopular cars so the carmakers could reach their sales targets for 2016."
The dealers' chamber reported more than 120,000 units of overstock among the dealers nationwide.
According to LMC's Zeng, overstock of Kia-branded cars are above the national average, despite car stocks climbing among almost every brand operating in China in December.
Dongfeng Yueda Kia registered 650,006 cars sold last year, 35,000 more than the sales volume of 615,000 vehicles in 2015.
The company toddled 5.5 percent growth year-on-year, while the Chinese auto market leaped 14.5 percent in 2016.
In 2015, the automaker's sales tumbled with a 4.6 percent drop, in contrast with the market's 4.5 percent growth overall.
Usually, the stock level requires automakers' dynamic management to allow dealers take less stock when sales are down.
However, Dongfeng Yueda Kia set its 2017 sales target at 700,000 vehicles, 7.7 percent more than the company's total sales last year.
Lang Xuehong, deputy secretary-general of the China Automobile Dealers Association, told Chinese media that Dongfeng Yueda Kia's aggressive sales policy might result in yet more overstock this year.
Chen pointed out that many dealers are still striving to sell the overstock forced on them from 2016, when the automaker threatened to cancel their authorization.
"There's no way for us to achieve the annual sales target, much less earn a year-end bonus from the carmakers," Chen continued.
About 70 percent of the dealers lost money in 2016 and some dealers that are now struggling with financial troubles were once in excellent shape, according to the dealers' chamber report.
"We strongly request the management team to be replaced by those who better understand the Chinese market, with insights into industrial development, and stronger research and awareness of government policies," the dealers' chamber said in the letter.
Kia's South Korean sister brand, Hyundai Motor Group (China), also infuriated its Chinese dealers in 2016.