VW sees signs of recovery in EU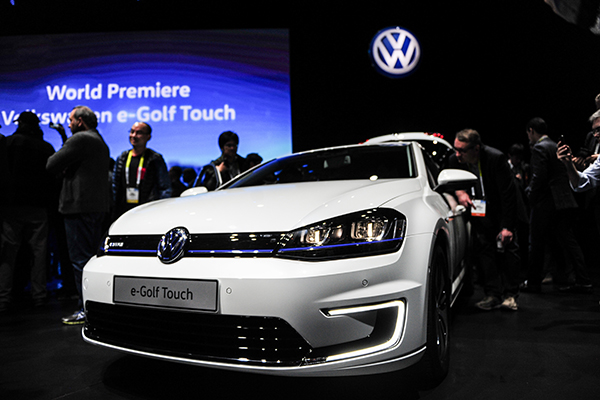 Volkswagen AG's e-Golf Touch model attracts visitors at the 2016 International CES, a trade show of consumer electronics, in Las Vegas. Not only in the United States, the carmaker this year shows positive growth in European market. [Photo/Xinhua]
EU Carmaker posts first regional market gain since diesel scandal
Volkswagen AG gained market share in Europe for the first time since its diesel-cheating scandal erupted in September 2015, a sign that the German manufacturer is regaining consumer trust.
The region's biggest automaker accounted for 24.8 percent of car sales in November, compared with 24.6 percent a year earlier, the Brussels-based European Automobile Manufacturers' Association, or ACEA, said in a statement on Thursday.
Industry-wide European registrations rose 5.6 percent last month to 1.19 million vehicles, putting the sector on track for its third annual gain.
Volkswagen outperformed with a 6.3 percent increase across the group's brands, bringing its expansion in the first 11 months to 2.9 percent.
Europe's auto sector has been recovering since hitting a two-decade low in 2013, supported by economic growth and improved consumer confidence in countries including Germany and France.
While sales growth this year has slowed as the market shows signs of peaking, demand remains resilient in the face of Volkswagen's emissions-cheating crisis, Brexit and political uncertainty amid a series of elections and referendums.
"European sales developed very well in 2016," Peter Fuss, a partner at consultancy EY, said in a statement.
"However, next year's growth will be significantly lower, which is partly a result of the high starting point but also the increasing economic and political headwinds."
Volkswagen's November gain was propelled by a 6.8 percent increase at Audi and a 29 percent surge at the Spanish Seat brand. The company's main VW marque rose 0.8 percent to 139,226 vehicles in November, narrowing its market share to 11.7 percent from 12.3 percent a year ago, showing that the company still isn't out of the woods.
The stock has lost 20 percent since the carmaker admitted to cheating on emissions tests 15 months ago.
Scandal impact
While Volkswagen has made progress in digging out of the emissions crisis, several of its brands still face probes and lawsuits across Europe and beyond.
German regulators are investigating whether luxury-car unit Porsche manipulated fuel-economy data on its vehicles by installing a device that can detect whether the engine is on a testbed. In the UK, the carmaker along with its Audi, Seat and Skoda units is facing their first class-action style lawsuit over similar allegations.
Market share losses over the past year continue to weigh on the German carmaker despite the November turnaround, with its deliveries accounting for 24.1 percent of the European total in the first 11 months, down from 25 percent in the same period a year earlier.
Fiat Chrysler Automobiles NV and Renault SA have been among the biggest beneficiaries of Volkswagen's tarnished image.
Renault boosted sales 17 percent in November and Fiat climbed 10 percent, continuing market-share gains. Mercedes-Benz parent Daimler AG and luxury-car rival BMW AG both climbed 12 percent.
Despite uncertainty, preparations for Brexit haven't significantly hurt demand in the UK yet, with registrations rising 2.9 percent in November and increasing 2.5 percent so far this year. November sales in Germany, the region's biggest market, gained 1.5 percent.
The ACEA compiles numbers from the European Union's 28 member countries, excluding Malta, plus Switzerland, Norway and Iceland.
Britain's decision to exit the European Union will probably start hurting UK sales next year, according to LMC Automotive, which predicts that car-delivery growth in western Europe will slow to 1.4 percent in 2017 from 5.9 percent this year.
Bloomberg