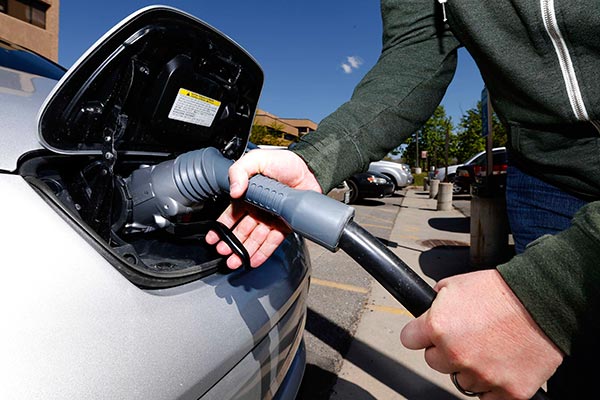 A customer hooks up a charging cable so he can charge his 2013 Nissan Leaf electric car at ABB Inc's DC fast charging station in Salt Lake City, Utah, US, April 30, 2014. [Photo / Agencies]
Seeing business opportunities arising out of China's fast urbanization, its move toward energy efficiency and its widespread industrial upgrading, Swiss-based power and automation company ABB Group will invest at least $2 billion in the country over the next decade, according to CEO Ulrich Spiesshofer.
"ABB highly recognizes China's important position in the global market and in our global strategy. The continuous investment in and commitment to smart technologies will help our company further maintain leadership in China," said Spiesshofer.
"We will keep an investment scale of at least $2 billion over the next 10 years," he added.
During the past decade, ABB has invested a total of $1.8 billion in China, with $136 million spent in 2013.
Spiesshofer also told China Daily that over the next five years, ABB will plunge 2 billion yuan in Xiamen, Fujian province, to set up the ABB Industry Center and Hub for power and low-voltage products in order to better integrate its service to Chinese customers.
Also, to further consolidate its footprint in China, "ABB will accelerate to go west and invest in the west," said Spiesshofer. "Over the next three years, we are going to enter 100 new Chinese cities, mostly in third-, fourth- and even lower-tier cities, doubling our presence in China from our current 109 locations."
After more than 30 years of rapid development, China's economy has come under heavy pressure in terms of resources, environment and sustainable development. Energy efficiency, industrial transformation and upgrading, and urbanization have become the new economic drivers.
In this situation, "ABB's many leading smart technologies come in handy, fully serving our customers and working together with them to achieve intelligent upgrading," said Spiesshofer, who attended the company's sixth Automation World solution exhibition and technology forum on Thursday.