Changan Auto posts 21% sales growth
Updated: 2013-12-31 17:16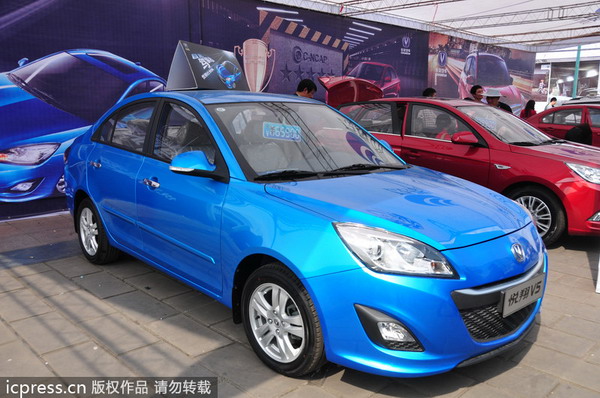 A car model made by Chongqing Changan is seen on display at an auto show held in Chongqing, April 14, 2013. The Chinese automaker on Monday announced 2013 sales of 2.13 million units, with an annual growth of 21.3 percent. [Photo/dfic.cn] 
CHONGQING - Chinese carmaker Chongqing Changan on Monday announced 2013 sales of 2.13 million units, with an annual growth of 21.3 percent.
The growth, the fourth highest among automakers nationwide, was 12 percentage points above the industry average, said Zhang Baolin, president of Changan Auto,
The carmaker has joint ventures with Ford, Mazda and Suzuki, and recorded sales revenue of 160 billion yuan ($26.4 billion), up 40.4 percent from a year ago.
Sales of its own vehicles, mostly minivans, hit 380,000 units, up 71 percent, from a year earlier.
Zhang said the company has set sales targets of 2.33 million units and 175 billion yuan for 2014 including 600,000 own-brand vehicles.