Driving global auto growth
Updated: 2013-12-16 07:47
China to fuel nearly half of the rise by 2019, say PwC analysts
China's light vehicle production is expected to hit 20.7 million units by the end of 2014, an increase of 11.9 percent from this year's projected full-year sales, according to Autofacts, PricewaterhouseCoopers's automotive analyst group.
China remains a driver of global growth in the industry as Autofacts predicts the market will generate 43.1 percent of production growth in light vehicles in the eight-year period from 2012 and 26.5 percent in 2019 alone.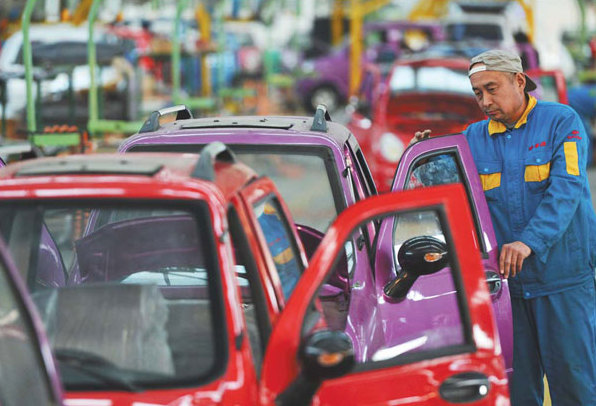 Technician helps assemble an electric car in Shandong province. Localization is now crucial to success in China's auto market, say industry experts. [Dong Naide / For China Daily]
This year, China beats expectations even amid a sluggish economy, with both sales and production registering double-digit growth.
According to Autofacts, full-year sales in 2013 are expected to grow 14.4 percent from 2012 to reach 18.1 million units.
Production volumes are forecast to increase 10.7 percent to 18.5 million units.
The latest statistics from the China Passenger Car Association show that in the first 11 months passenger vehicle sales surged 17.1 percent year-on-year to 15.4 million units.
The strong recovery followed just 2.5 percent growth in 2011 and 4.3 percent in 2012.
"China's automotive sector continues to grow as consumer demand remains strong, particularly second car purchases by middle class consumers in the eastern region and first-time purchases in the west," said Wilson Liu, PwC China automotive head.

"Other fundamentals such as urbanization, improved economic conditions and downward price trends are also contributing to growth," he added.
The rise comes even as fuel prices are unfavorably high compared to their historical value.
The cost of owning a car is estimated to grow further as affected by traffic congestion and worsening air pollution, said the PwC report.
Unemployment remains within a relatively comfortable zone and that gives people confidence about business and personal spending.
In a climate of restrictions on buying real estate, car purchases seem an attainable dream that most people could afford, said PwC.
Autofacts also forecasts a more intense competitive landscape for automakers in China next year. Despite widespread overcapacity in China, global automakers continue to bet on long-term growth through heavy investment in manufacturing capacity.
From 2012 to 2019, the nation's automotive sector will have additional capacity of 10 million units, PwC predicts.
More localization
As local assembly volume grows, the localization of major components such as engines and transmissions is increasing, resulting in a downward pricing trend.
"Localization and consolidation will be two key words for China's automotive industry in 2014," said Liu.
The market is fiercely competitive and consumers in China are becoming mature enough to have higher expectations.
"We will see more competition on price and an accelerating trend of mergers and acquisitions. For the luxury sector, localization will be the decisive factor," he added. Looking at the global environment, while speculation continues about the long-awaited recovery of the EU market, worldwide light vehicle production grew 3.3 percent to reach 81.8 million units, said PwC.
It forecasts a strong increase of 5.9 percent to 86.6 million units globally in 2014.
The analyst group said stabilization of several key automotive markets in 2013 has positioned the global industry to forge ahead with technological innovation, further strategic partnerships and increasing M&A activity. Rick Hanna, PwC's global automotive head, said Chinese automakers should target Europe for their M&A ambitions as its economy is still sluggish. As well, he said "consumer demands and regulatory requirements are motivating the global automotive industry to push ahead with technological breakthroughs on a larger scale".
"With innovation ranging from lightweight materials and advanced drivetrains to infotainment systems, fresh approaches in engaging customers will continue to shape the industry," he explained.
"The automakers that effectively leverage high-tech advancements in vehicles, mobile devices and data analytics will gain a competitive advantage in this dynamic market," Hanna said.
lifangfang@chinadaily.com.cn
(China Daily 12/16/2013 page18)