JLR execs show Cameron the power of localization
Updated: 2013-12-09 07:36
Jaguar Land Rover CEO Ralf Speth and Bob Grace, president of the company's China branch, joined UK Prime Minister David Cameron on Dec 2 to commemorate the official opening of the company's training academy in Beijing.
The ceremony was held during a UK trade delegation visit to China.
As a leading representative of the UK's resurgent automotive industry, Speth joined the prime minister and delegation of ministers and business leaders on their three-day visit.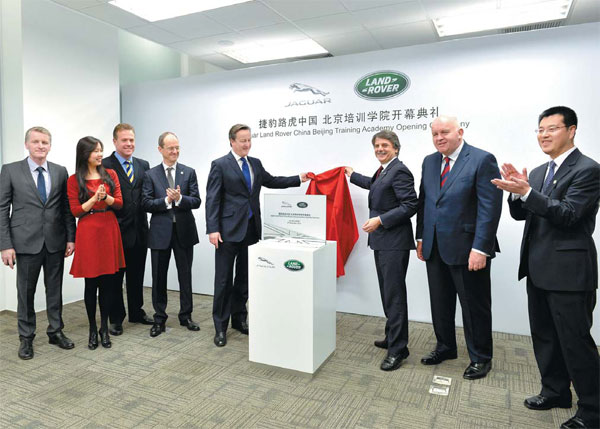 UK Prime Minister David Cameron (fifth left) takes part in the opening ceremony of Jaguar Land Rover's training academy in Beijing. Photos provided to China Daily
He noted that the automaker's national sales company in China was established in 2010 and the dealer network has since expanded "to support a series of exciting new products".

"China is the world's largest automotive market and a key territory for Jaguar Land Rover," he said.
"It is therefore vital that we invest in the skills and training necessary to support our two great premium brands and provide our discerning Chinese customers with unrivaled quality and customer experience."
The training academy in Beijing is the company's second such facility in China following the first in Shanghai. They will shortly be complemented by a new academy in Guangzhou.
Each center covers more than 2,000 square meters and has an average annual training capacity of 5,000 to 6,000 persons.
The academies will help Jaguar Land Rover ensure well-trained technicians, sales consultants and service representatives to deliver world-class customer service across its 242 authorized dealers in more than 90 Chinese cities, 131 of which are currently operational, said the company executives.
Since Land Rover was introduced to the Chinese market in 2003, and Jaguar in 2004, the company has seen demand for the two British brands grow steadily.
During Cameron's visit the company reinforced its commitment to China with the signing of a memorandum of understanding to guarantee the provision of vehicles to its sales company for the next year.
The agreement is a demonstration of the strong Sino-UK trade relationship forged by Jaguar Land Rover, said the company.
The iconic automaker has been "steadfastly committed to sustainably growing in and with China since entering the market", said Grace.
"In line with the company's strong 'customer first' philosophy, our primary focus is catering to the needs of our patrons in China through offering our latest products equipped with cutting-edge technology, excellent customer service, an unparalleled brand experience, and in the future, locally produced vehicles," Grace said.
To further support its Chinese consumer base, Jaguar Land Rover has established a joint venture company with Chinese automaker Chery Automobile Co with an investment of 10.9 billion yuan ($1.8 billion).
The new company, which will start operation next year, is based in Changshu, Jiangsu province and "will harness the expertise of the two companies to produce tailor-made vehicles specifically for the Chinese market", he added.
zhuanti@chinadaily.com.cn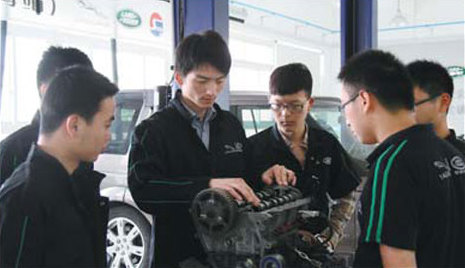 A Jaguar Land Rover trainer (central left) gives a lesson.
(China Daily 12/09/2013 page19)