Rise of the south's biggest show
Updated: 2013-11-21 10:06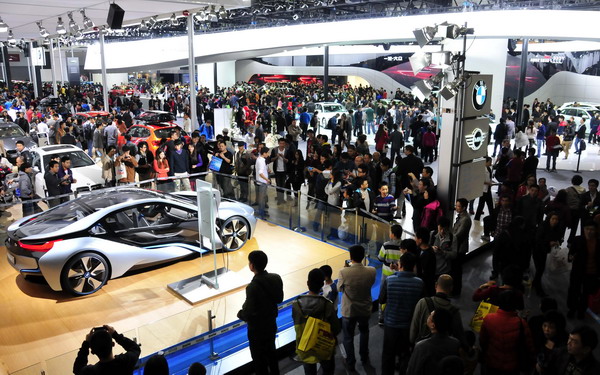 Matching the 2012 record size of 200,000 square meters, the Guangzhou Auto Show has 915 models on display this year, 30 of them world premieres. [Photo / Xinhua] 
Annual event has grown in size, stature and exhibitions
When the first Guangzhou International Automobile Exhibition was held 10 years ago no car made its global debut.
Some major international passenger car manufacturers including Ford and Mercedes-Benz were even absent from the event, which had 236 exhibitors that year.
Yet in the same year, the Shanghai International Automobile Industry Exhibition was already in its 10th session and had more than 700 exhibitors. Among the more than 300 cars on display, 116 were shipped directly from overseas for the event.
The previous year, some 1,200 exhibitors and 550 cars were on show at the Beijing International Automotive Exhibition first created in 1990.
Despite the huge gap in size and profile, organizers of the Guangzhou Auto Show were determined to make it as influential as its "elder brothers" in Beijing and Shanghai.
Mainly fueled by the city's advantages as an important car market, production site and gateway in South China, the Guangzhou Auto Show developed rapidly over the next decade.
Today, 915 vehicles from carmakers both in China and overseas are showcased at the grand year-end event held annually in the southern metropolis.