Toyota Motor Engineering & Manufacturing China (TMEC) began operations in the Changshu Southeast Economic Development Zone in Jiangsu province on Nov 14.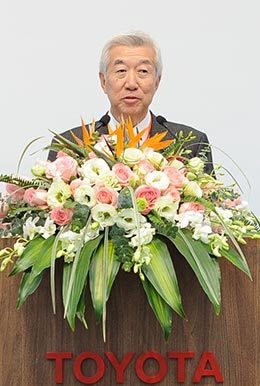 Toyota Executive Vice-President Mitsuhisa Kato gives a speech on Nov 14, 2013 at the ceremony for Toyota Motor Engineering & Manufacturing China (TMEC) in Changshu. [Photo provided to chinadaily.com.cn]
"This is the first time Toyota has brought experimental and research facilities for the hybrid vehicle core components outside Japan, and placed into service," said Shinichi Matsumoto, vice-president of TMEC.
Toyota started TMEC on Nov 17, 2010, as its fifth research and development center outside Japan. Toyota now has five R&D centers in China, the United States, Belgium, Australia and Thailand.
Toyota Executive Vice-President Mitsuhisa Kato said at the ceremony that, "TMEC will constantly persist in providing cars which satisfy Chinese customers, refining car manufacturing in China and listening to Chinese customers."
TMEC is now Toyota's world's largest R&D center equipped with standard testing tracks and research facilities. Its major task involves localizing Toyota's energy-efficient and new-energy cars, develop engines and vehicles suitable for Chinese market, and cultivate local talents for the R&D operation.
The joint research section will witness the FAW-Toyota and GAC-Toyota together developing hybrid cars for the Chinese market.
"Chinese customers will very soon see cars equipped with environment-friendly technologies developed both by TMEC and the Toyota joint venture R&D centers," said TMEC general manager Tadashi Yamashina.
The $689 million Toyota TMEC, covering 2.3 million square meters, broke ground two years ago in the presence of Toyota's head Akio Toyoda who reiterated that China is the company's most important market.
It has 320 employees at present, and will have a total of 1,000 in the future.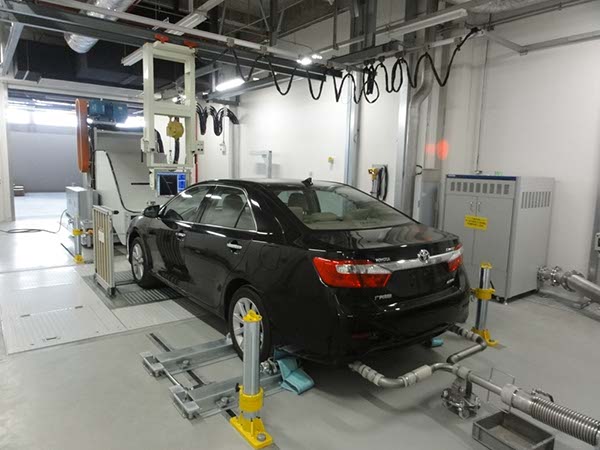 A Toyota Camry in testing. [Photo proviced to chinadaily.com.cn]