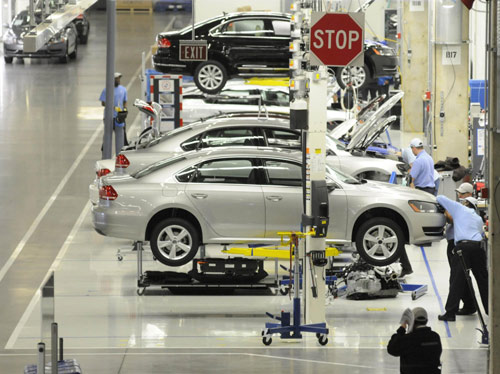 Volkswagen employees inspect an 2012 Passat in the assembly finish department in Chattanooga Tennessee, Dec 1, 2011. [File photo / Agencies]
BEIJING -- Volkswagen China and Shanghai Volkswagen will recall 207,778 imported and domestic Tiguan vehicles from November 25, China's quality watchdog announced on Wednesday.
The recall will include 18,008 imported Tiguan 2010/2011 2.0T models produced between May 11, 2009 and June 7, 2011, and 189,770 domestic Tiguan 2010/2011 1.8T/2.0T models produced between January 4, 2010 and November 10, 2011, the General Administration of Quality Supervision, Inspection and Quarantine said in a statement.
A faulty fuse in the headlamps of the defective vehicles has affected their proper working in conditions of high humidity and rapid temperature change, which may cause safety problems, the statement said.
The manufacturer will offer free checks and replace the fuse in the recalled cars starting from November 25.