Foton Loxa: Lifting to success
Updated: 2013-09-16 08:17
Latecomer finds market niche in construction machinery
Massive cement pump trucks are often huge oil guzzlers. But heavy equipment maker Foton Loxa has made a breakthrough in energy efficiency with its gas and gas-diesel hybrid engines.
A Loxa pump truck powered by gas can cut fuel bills by 30 percent over traditional diesel engines, significant savings when fuel is more than 50 percent of the machine's operating cost, said the Beijing-based company.
Luo Yuliang, vice-president of Foton Motor Group and president of its Loxa business unit, admits that Loxa is a latecomer in the segment.
During the boom in China's heavy machinery industry, which peaked in 2009 and 2010, the profit margin for top players Sany and Zoomlion reached as high as 40 percent.
"That was a result of a series of government stimulus packages to cope with the economic downturn, but since 2011 the heavy machinery market slid quickly," Luo said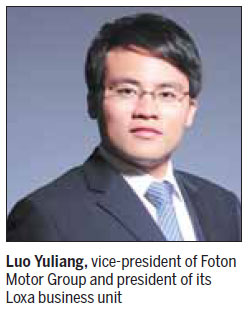 "But last year when the new leadership decided to accelerate urbanization, manufacturers started to see a silver lining."
Even with thinner margins, the heavy machinery industry is appealing because the market is huge, Luo said.
"The profit margin is not as high, but we still see decent returns compared with other industries," Luo said.
"China accounts for 80 percent of the world heavy machinery market, so we still have good opportunities in the next 10 years," he added.
Luo said he is pleased that latecomer Loxa has already established itself in some niche markets. It was the sales leader in mixer trucks last year, taking a 12 percent market share against 140-odd competitors.
Three years ago, Loxa delivered fewer than 100 pump trucks every year, but the number has risen to several hundred.
"Many customers may not know that Loxa is a subsidiary of Foton, but they know our L8, pump truck," Luo said.
Complete chain
He said "the unique advantage of Loxa is the complete value chain".
While most other heavy machinery brands in China buy chassis from overseas manufacturers such as Volvo and Isuzu, Loxa's parent company Foton is a professional truck maker.
"So every chassis by Loxa is customized for the truck. Foton also has strategic partnerships with German auto giant Daimler and US engine company Cummins so our products can be geared up with better technologies."
As the Chinese market varies from region to region, Luo said the company considers it three sub-markets - developed, developing and the underdeveloped.
"In developed regions, especially in the eastern coast, we will upgrade our engines to be more environmentally friendly," he said. "In developing markets where the urbanization pace is fast, we will seize the opportunity to take more market share and in underdeveloped areas we will lay out good after-sales service networks," Luo said.
Loxa has developed different chassis to work on all kinds of terrain from plains to hills.
Luo said the company is reaching out for more fresh ideas from overseas, especially in Germany where the auto and machinery industries are very strong.
In 2012, the company founded a research and development center in Essen, Germany, where some of its locally recruited engineers have more than 20 years of experience.
"Now every month, we hold two to three video conferences to exchange ideas between Beijing and Essen, and our staff frequently flies between the two countries," Luo said.
Last year exports of the company's cement pump trucks ranked among the top three in China. The products are popular in Southeast Asia, Africa and the Middle East.
While working in the machinery industry for more than 20 years, Luo said he developed a mission - helping construction workers earn easier money and have a better life.
"Twenty years ago, construction workers needed to mix sand and cement by hand, and carry the heavy load to the roof on their shoulders in the scorching summer sun, but now they can use pump trucks to do the work," he said.
"So being a construction worker is no longer shameful and they can work with dignity. I'm proud to help them realize their dreams."
wangchao@chinadaily.com.cn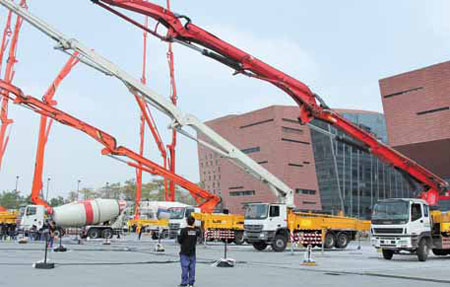 It was the sales leader in mixer trucks last year, taking a 12 percent market share against 140-odd competitors. Photos Provided to China Daily
(China Daily 09/16/2013 page18)