Profit warning at Chrysler hits parent Fiat
Updated: 2013-07-31 15:56
Fiat's US unit Chrysler, which generates most of the group's net profit, cut its profit forecast as it struggled to fill orders due to parts shortages, hitting the Italian automaker's shares.
Chrysler's booming US sales have compensated for Fiat's losses in Europe, where demand hit a 20-year low in the first half of the year.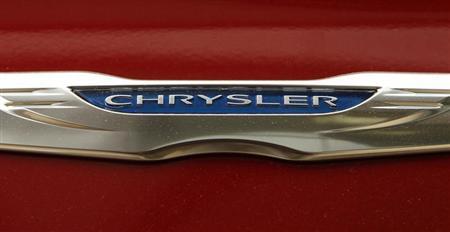 A Chrysler badge is pictured on a new car at a dealership in Vienna, Virginia. [File Photo / Agencies]
Its competitors General Motors and Ford both trounced expectations in their earnings releases last week. Automotive supply chain glitches have proven a headache for the much smaller and less diversified Chrysler, which is overly dependent on Jeep and truck models to make money.
Chrysler trimmed its full-year net profit forecast to a range of between $1.7 billion and $2.2 billion from a previous estimate of $2.2 billion. It earned $1.7 billion in 2012.
Chrysler's production rate has gone from 1 million cars a year in 2010 to 2-1/2 times that rate and the company will add another 200,000 vehicles of annual output next year, Marchionne said. That causes stress on the supplier network.
Chrysler confirmed that the critical launch of a new Jeep Cherokee was delayed by a month to September to resolve calibration issues with the SUV's new nine-speed transmission.
Shares in Fiat, which owns 58.5 percent of Chrysler and plans eventually to merge the two carmakers, closed down 4.2 percent at 6.03 euros.
In a separate statement, Fiat confirmed the combined group's 2013 financial targets and said Fiat's losses in Europe narrowed in the second quarter to 98 million euros ($130 million) because of cost cutting, even as car shipments in the region fell 5 percent.
Ford and General Motors also reduced their losses in Europe in the second quarter, by cutting costs.
Chrysler said it saw worldwide vehicle shipments this year of 2.6 million, at the low end of its previously forecast range of 2.6 million-2.7 million. It confirmed revenue targets.
Fiat confirms investment freeze
Net profit at Chrysler rose to $507 million in the second quarter from $436 million a year before. The quarter included increased pricing at Chrysler of $337 million due to the rollout of newer vehicles like the Ram pickup truck and Jeep Grand Cherokee SUV, which allows Chrysler to boost prices and cut incentives.
Marchionne said July would continue the trend of higher Chrysler sales in the US market and the outlook for the rest of the year looked positive.
Fiat said its group trading profit - earnings before interest, taxes and one-time items - was 1.03 billion euros ($1.37 billion), just above a consensus analyst forecast of 1 billion euros, as its Europe loss narrowed and sales in Asia improved.
Fiat's net debt was 6.71 billion euros, against a forecast of 7.1 billion euros.
The two sides disagree on the value of that stake and the issue is simmering in a Delaware court with a ruling expected by the end of July.