Daimler CEO buy $1.5 million in stock
Updated: 2013-07-22 13:46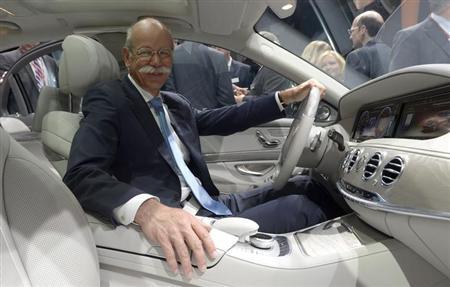 The CEO of Daimler, Dieter Zetsche. [Photo / Agencies]
The embattled chief executive of German luxury carmaker Daimler, Dieter Zetsche, purchased roughly 1.15 million euros ($1.51 million) worth of stock on Wednesday using the proceeds from share options granted nearly 10 years ago.
Zetsche, whose contract was extended in February by just three years instead of the expected five, bought 22,000 shares at a price of 52.08 euros each according to Daimler's website.
"With this share purchase, Dieter Zetsche is underscoring his confidence in a sustained and positive development for Daimler," said Joerg Howe, Head of Global Communications, in a statement on Friday.
"It is a signal to all the other Daimler shareholders."
Daimler said its CEO had funded Wednesday's stock purchase from the sale of roughly 1.25 million euros worth of shares that were acquired after exercising on Monday call options granted in 2004.
Zetsche's three transactions this week came shortly after the stock hit a two-year high following pre-announced results that showed operating profit before special items in the second quarter fell by only 8.2 percent to 2.1 billion euros.
Daimler's supervisory board has come under fire from investors like DWS, Germany's largest retail fund manager, for offering share option programs that allow senior management to buy shares very cheaply due to their benchmarking to a peer group which includes far less profitable mass-market carmakers like Fiat and Renault.