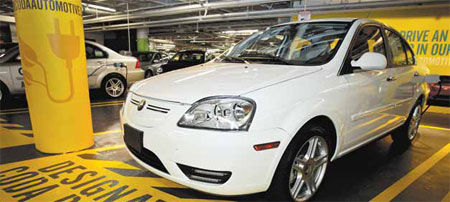 An all-electric, and now rare, Coda in a parking garage in Los Angeles. The startup company filed for Chapter 11 bankruptcy protection last Wednesday. [Bret Hartman / Reuters]
US company used Hafei vehicles, sold just 100 units
In another warning to the industry that the mass market is still far from ready to accept all-electric vehicles, US company Coda Holdings Inc recently filed for bankruptcy protection.
The startup company based in California said in a statement on May 1 that it filed a voluntary petition for protection under Chapter 11 of the US bankruptcy code as it finalizes plans to exit the auto sector and refocus its business in energy storage.
Coda diversified its business and formed Coda Energy two years ago to use its energy-storage products in cars based on its existing core technologies that include battery and thermal management systems.
Coda's bankruptcy filing came after poor market performance.
The company sold only about 100 vehicles since its first product hit the US market last year, according to a Reuters' report, which said "the $37,250 vehicle was criticized for its no-frills styling and low crash safety rating, its short lifespan and faulty airbags".
The four-door, five-seat car was built by China's Hafei, a subsidiary of Chang'an Automobile Group, and the battery was developed by Coda's local joint venture with Tianjin Lishen Battery Co Ltd.
Last year, Coda also agreed with China's Great Wall Motors to co-develop its second product. Analysts said that agreement is expected to lapse as the California company exits the auto industry.
In an interview with China Business News on May 2, executives from both Hafei and Great Wall admitted their cooperation with Coda will be affected.
Not an isolated case
Coda is not an isolated case. US electric car company Fisker Automotive Inc announced that it might go bankrupt if it cannot find new investors in the near future.
"The time has not yet come for electric vehicles, so those who enter the market too early become martyrs," said Zhong Shi, an independent auto analyst in Beijing.
Both Coda and Fisker are independent electric car companies with no traditional combustion engine vehicles, so their failure is a reflection of a poor market environment, Zhong said.
But not all the electric carmakers are having a difficult time.