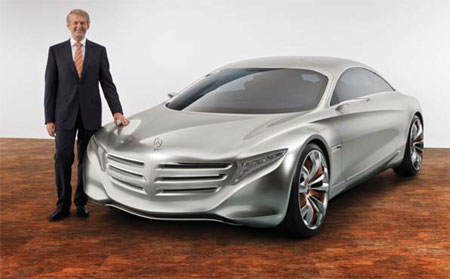 Thomas Weber, member of the board of management of Daimler AG, head of Group Research and Mercedes-Benz Cars Development with Mercedes-Benz F125.
Editor's note: Innovation has been a cornerstone of Daimler's philosophy and business practices for the past 127 years. Today, the brand is still as passionate about using technology to drive the industry forward.
Thomas Weber, a member of the Board of Management at Daimler AG, in charge of R&D, shares his views about the importance of innovation for success in the China market with China Daily reporter Li Fangfang.
Q: How does R&D fit into the overall picture of Daimler in China?
A: We 'Think global - act local' and so have an extensive worldwide knowledge network covering a wide range of disciplines with around 21,000 people at Daimler R&D - of which 4,300 are outside Germany.
With this network, we bring R&D know-how directly to markets, tighten collaboration with operational production facilities, and support customer and market demand to achieve faster market entry and to gain structural advantages.
In China, we have a dedicated R&D Center with an engineering team that operates under the umbrella of Daimler Greater China. The R&D that we currently carry out here is integral to our China business and is essential for localization.
Q: Could you give us some examples?
A: A good example of China-specific adaptation is the long wheel-base E-Class specifically designed for China whose costumers prefer more leg room for back-seat passengers, and also because cars in China are often chauffeur-driven.
Another example of our local support is quality control. Everything that we do locally, especially in our cooperation with Chinese suppliers in the development and production of specific local components, is closely monitored by our quality team.
Local testing of engine and drive-train components is also an important aspect, including verification and adjustment in terms of specific fuel requirements.
And of course, we also need Chinese language interfaces for our telematics systems and components, which are also developed locally.
Q: Do you think Chinese elements will find their way into styling of Mercedes-Benz cars globally?
A: Generally we develop, design and produce our Mercedes-Benz vehicles for the world market - however we recognize that local taste and certain technical adaptations are necessary in order to meet local demand and regulations.
Our Beijing-based studio plays an important role in acting as a seismograph, recording and analyzing stylistic trends and taking them into consideration for the creative process.
We are open to new design elements that will make our Mercedes-Benz cars even more popular in China, and of course it is the aim of all our design studios worldwide to work on future car designs which appeal to our global customers.
Q: What is the future of the car industry in China and how does that affect Daimler's R&D?
A: The trend in China is not driving fast but driving safely, in comfort and style. Looking ahead, general factors such as energy consumption, road congestion, and lack of parking space, as well as rising pollution levels, will lead us to a holistic approach of future mobility.
The next models that we will introduce in China will be from our new generation of front- and all-wheel drive compact cars.
On the electric-vehicle side, we will also introduce our smart for two electric drive to the Chinese market this year - making a commitment to zero-emission cars in the country.
We will also be introduce the DENZA electric vehicle next year with our JV partners at BYD.