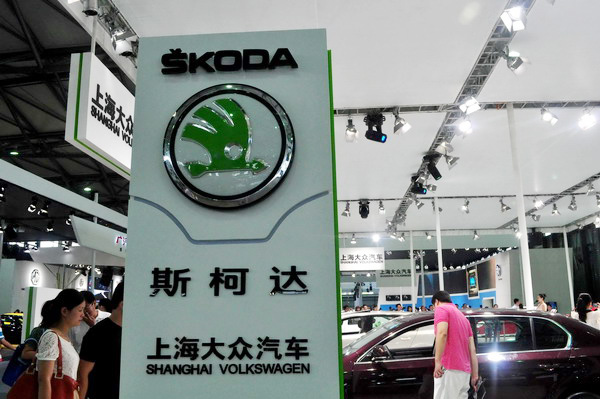 A booth of Shanghai Volkswagen's Skoda is seen at an auto show in China. [Yan Daming / Asianewsphoto]
PRAGUE - Volkswagen's Skoda Auto expects a rise in deliveries this year after record sales in 2012, but a switch to a new model and weak demand in Europe will lead to a decline in the first half.
Skoda, the Czech Republic's largest exporter, sold 939,200 cars in 2012, leading to record revenue of 10.44 billion euros ($13.5 billion), although net profit fell 6 percent to 611 million because of higher investments.
Like other European carmakers, Skoda is relying on growth in emerging markets to make up for sluggish sales amid Europe's economic woes.
It is also counting on new models, including a new generation of its best-selling Octavia, to keep it on target to reach annual sales of 1.5 million by 2018.
Chairman Winfried Vahland said on Wednesday the launch of new models, though, and a drop in European markets, will hit first-half sales, but Skoda was still aimed for an overall rise in 2013.
"The first quarter and, most likely, the first half of the year will be somewhat weaker for Skoda than in the previous year," he said in a broadcast of Skoda's annual results news conference on the company's website.
"For the entire year, we are fundamentally confident about rising deliveries."
Skoda is an important part of the export-driven Czech economy, which is struggling to climb out of its longest recession in two decades. But exporters like Skoda are suffering a slowdown in orders from many markets in the euro zone.
Skoda reported a 7.4 percent drop in global sales to 136,600 vehicles in January and February.