Geely sets profitability plan for new British acquisition
Updated: 2013-02-26 10:37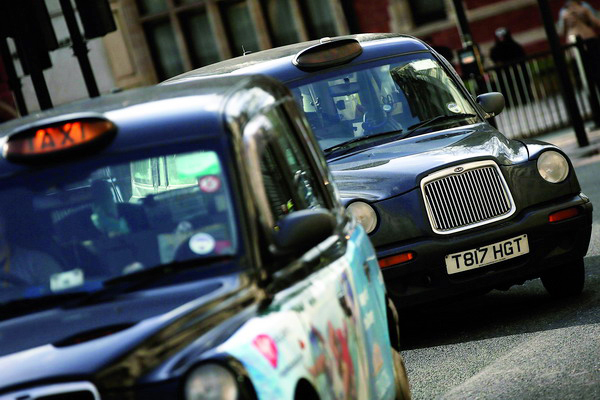 Manganese Bronze Holdings, a producer of London cabs, has been sold to Zhejiang Geely Holding Group, which has expressed a desire to rebuild the financial position of the taxi maker and expand its exports. [Matthew Lloyd / Getty Images] 
Plan to turn around UK taxi maker includes huge 5-year investment
Zhejiang Geely Holding Group plans to invest 100 million pounds ($151.4 million) in a global taxi project that the company expects will make Manganese Bronze Holdings - its newly acquired British taxi maker - profitable within a year, Geely's management said.
"The acquisition won't make Geely lose money in business," Li Shufu said. "Manganese Bronze will regain profitability this year, much sooner than our previous perspective for three years."
Li told the media during his London visit on Friday: "We are making a new business plan for the taxi company and aim to rebuild the future of the globally renowned and respected brand."
He announced a global taxi project, which will introduce London's iconic black cabs' service and culture to China and world cities across the globe.
Li Donghui, Geely Group chief financial officer and chairman of Manganese Bronze's London Taxi Co, said that the plan involves an investment of 100 million pounds over the next five years.
Li Donghui also disclosed that the new company has restored its sales and expanded the reach of the black cab outside London, courting customers in Saudi Arabia and Australia.
"We have sold 400 taxis recently, with 200 to Saudi Arabia and 200 to Australia," he added.
The Zhejiang-based company finalized the acquisition of ailing Manganese Bronze on Feb 1 for 11.04 million pounds, after the cab maker collapsed into administration.
The acquisition includes a plant, equipment and property, intellectual property rights and trademarks, said Geely, which already was a Manganese Bronze shareholder after buying a nearly 20 percent stake of the company in 2006.
In 2011, Manganese Bronze sold 1,502 cabs in the UK, down from 1,653 in 2010.
"Now that we have taken over all business and core assets of Manganese Bronze, and thus can help its international expansion," Li added.
Li said that Geely's priority is to restore Manganese Bronze's business back to where it was before its current difficulties and to continue production of its latest model, the TX4, at its plant.
After presenting itself as the most ambitious Chinese automaker in the world by acquiring Swedish luxury vehicle producer Volvo Cars from Ford Motor Co in 2010, the Zhejiang-based company has made headlines more frequently, especially in the past month.
We recommend:
Geely completes black cab takeover
Geely seeks control of London cab maker