Bond's Aston Martin DB5 stars at Detroit auto show
Updated: 2013-01-23 17:08
Car made Bond world's first connected driver, and connectivity may be the next big transformation in the auto industry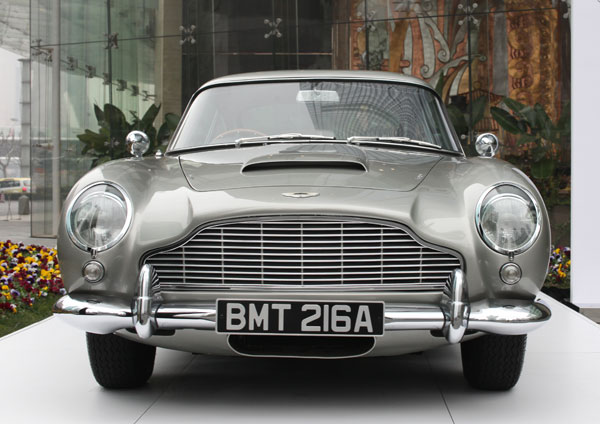 An Aston Martin DB5 is seen at Shanghai International Finance Centre on Jan 21, 2013. [Provided to chinadaily.com.cn]
James Bond's famous Aston Martin DB5 has made the trip across the pond to the 2013 North American International Auto Show, or NAIAS, in Detroit during Jan 14-18.
The iconic vehicle co-starred with Sean Connery in the movie Goldfinger and appears with Daniel Craig in Skyfall, the highest-grossing Bond movie ever at $869 million to-date.
The DB5's in-car phone and futuristic GPS mapping device made James Bond the world's first connected driver. The Covisint NAIAS exhibit showcased the future of vehicle connectivity, a major communications feature demanded by consumers in vehicles for 2013 and beyond.
A Juniper Research study conducted this year predicted that there will be more than 90 million Internet-connected cars by 2016, with smart phones playing a pivotal role.
Providing a robust and secure connected owner experience - like the one Agent 007 enjoyed - can produce a major competitive advantage for original equipment manufacturers, or OEMs.
"Connectivity goes well beyond a feature in the car, and this important trend presents the auto industry with increased opportunities to engage and connect with owners." said David McGuffie, president and chief operating officer of Covisint, a Compuware company that provides the cloud engagement platform for OEMs.
Also at the show, a "Bond Girl" pointed out the gadgetry that Q installed to help outwit the evil Auric Goldfinger - including revolving license plates, the rear tail lamps that emit a nasty oil slick, a rear bullet-proof screen, front wing machine guns, and of course the unforgettable tire slashers and passenger-side ejector seat.
More about North American International Auto Show
N. America Int'l Auto Show lights up Detroit
Int'l auto show in detroit indicates recovery
Nissan unveils 2014 Versa Note at Detroit auto show
Detroit Auto Show: Tesla grabs the spotlight