Inspired by the two decades of leadership in China's luxury segment that was further consolidated last year, German carmaker Audi AG last week announced an aggressive blueprint for the years to 2020 to maintain its No 1 position in sales and brand image.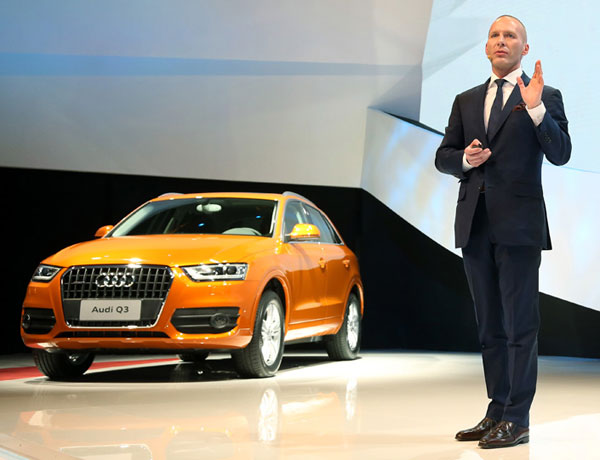 Dominique Boesch, general manager of the Audi sales division at FAW Volkswagen, summarizes the premium brand's 2012 performance in the Chinese market. [Photo / China Daily] 
Ge Shuwen, executive deputy general manager of the Audi Sales Division at Sino-German joint venture FAW Volkswagen, said its "leadership strategy" for 2020 aims for the brand to be the most appealing in products and services as well as an employer.
Audi will also ensure its dealerships in China are the "healthiest and most efficient," Ge said.
He said Audi plans to boost both annual production and sales in China to 700,000 units by 2015.
Last year, Audi's China sales jumped 30 percent to 402,888 cars, consolidating the company's position as the biggest premium car provider in China.
The figure also maintained China as the brand's biggest single market in the world accounting for 28 percent of its global sales.
Audi sold 1.445 million cars across the world last year, up 11.7 percent from 2011, second only to BMW.
"We made great achievements in China last year amid unprecedented price wars in the premium segment as our philosophy is based on consistency and reactivity," said Dominique Boesch, general manager of the Audi sales division.
"We have a steady price system and steady dealer development to seek qualitative growth," Boesch said, adding that Audi's increased services and product portfolio contribute greatly to the consistent success.
Analysts agree that China's premium car market has enormous potential with the growing middle class in the country, but competition will be acute in coming years.
Premium car sales in China will reach 1.83 million units a year by 2015, up from 1.17 million units last year, according to Audi's forecast.
The carmaker estimates that the annual production capacity for premium cars in China will double to 2.38 million units by 2015. A range of carmakers including Audi, BMW, Mercedes-Benz, Infiniti, Volvo and Land Rover are building new facilities in the country.
The forecast says there will be 25 models by premium brands produced in China in the period.
Ge said Audi will have its full lineup of 42 models and variants - locally made or imported - in China by 2015.
This year, Audi will launch 10 new products in China including the locally made Q3 compact SUV as well as imported S6, S7, A6 hybrid and A8 hybrid models.
Ge said Audi will grow its number of dealerships in China to 450 by 2015, up from 291 last year.
It now has two plants in the northeastern city of Changchun that produce the A6L and A4L sedans as well as the Q5 mid-sized SUV. It will start to make its all-new A3 in a new plant in Foshan in Guangdong province before the end of the year.
gongzhengzheng@chinadaily.com.cn