Scale of CIGIE 'rare for domestic exhibit'
By Hao Nan (China Daily)
2010-11-24 14
| | |
| --- | --- |
| | |
This year's China International Green Industry Expo (CIGIE), with the theme "Green Economy, Mutual Benefit", is unparalleled in level and scale and "very rare for a domestic exhibition", according to organizers.
Its hosts are 12 national departments, including the Ministry of Commerce, and it has attracted a large number of Chinese and foreign senior government officials.
Of the 212 influential companies taking part, 127 are from foreign countries.
"This is the first time for an expo to see so many foreign exhibitors," the organizers said.
"Chinese companies need to take this great chance to introduce their green-economy and clean-industry experiences, and promote cooperation through greater communication."
The expo is full of state-of-the-art technological developments covering energy-saving materials, clean energy vehicles, seawater desalination, garbage power, water treatment, solar energy, nuclear power, and biomass energy, to name a few.
The expo has 10 venues, including one comprehensive zone and five themed areas. All have been designed with environmentally friendly, recycled materials and "white pollution" by plastics and Styrofoam is being avoided.
The five themed areas cover clean energy, energy conservation, environmental protection, low-carbon technologies, and circular energy, "each with its own characteristics", the organizers say.
The biggest venue was set aside for clean energies, in a 1,792-square-meter (sq m) area. It displays the work of 34 famous domestic and overseas companies engaged in raw materials supply, manufacturing, and technical research.
Next comes the energy conservation site, with 36 companies in a 1,588-sq-m area showing the latest achievements in smart grids, energy-efficient consumption, energy-saving equipment and building materials.
The environmental protection venue has exhibitors from the United State, France, Germany, Japan and elsewhere, with lead technologies in the area of water controls and solid waste.
The circular energies venue might be the most crowded, with the second largest number of exhibitors - 30 companies in an 806-sq-m area. Typical examples of circular economies are on display to show the importance of simple production and efficient, cyclic resource utilization.
In addition to the five themed venues, the expo includes a 1,000-sq-m outdoor zone for clean energy vehicles. Five companies will present their latest versions of pure electric tour buses and hybrid electric automobiles.
The organizers have also provided three special zones to show future green industry concepts and the importance of green financing in boosting sustainable development through environmental protection.
Even for ordinary visitors, the three-day event is a great chance to increase their understanding of the green economy by experiencing a fresh lifestyle, up close, in the exhibitions, said the organizers.
They say that they expect the expo to provide a good background for the coming climate change negotiations in Cancun, Mexico. "There will be speeches at the expo explaining China's attitude and position as a large developing country in responding to global climate change." 
A US electronics company invented a charger that draws its power from Wifi signals, according to TGDaily.com.
The "Green Seeds" chewing gum bottle designed by Jiang Gonglue makes it easier for you to deal with gum residue.
A French graduate designed a kettle using an incandescent bulb to heat water, according to dezeen.com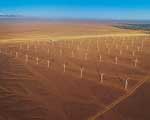 China Wind Power 2010 is the largest and most important international wind power conference and exhibition in China.
TradeWinds Shipping China 2010 moves to examine every important facet of the shipping industry's fortunes.
Outdoor Lifestyle Hangzhou Fair will attract reputed suppliers, buyers and agents from around the globe.